Coronavirus (COVID-19)
Updated April 29, 2021
The novel coronavirus (abbreviated COVID-19) was first detected in Wuhan, China in late 2019 and has now been detected around the world in all 50 of the United States. The COVID-19 landscape is rapidly changing and new information is being released daily. Samaritan encourages community members to visit the Centers for Disease Control and Prevention (CDC) and NYS Department of Health websites for the latest information.
As of April 28, 2021, there have been 6,574 confirmed positive cases of COVID-19 in Jefferson County and 6,304 recoveries. To date, 84 people in the county have died from the disease.
Request a COVID-19 Test
Request a free COVID-19 testing appointment at Samaritan. Testing will be prioritized on a first come, first serve basis and any community member is eligible as long as supplies are available.
COVID-19 Vaccine Information
New York State is determining who gets vaccinated and when, based on a priority rollout approach. While the vaccination process is underway, every New Yorker should wear a mask, social distance and avoid small and large gatherings.
---
Samaritan Visitor Restrictions
All of Samaritan's locations are currently under strict visitor restrictions.
---
Safety For Patients
At Samaritan, the health of our patients, staff and community always comes first. Though times are challenging, we've taken precautions to ensure our patients can still safely receive the care they need.
---
COVID-19 and Long Term Care Facilities
Samaritan understands that long term care residents and their families have heightened concerns about COVID-19, and we are here to alleviate those concerns as much as possible. Our two long term care facilities, Samaritan Keep Home and Samaritan Summit Village, are committed to the safety of residents and staff.
COVID-19 Donation Guidelines
As demand for medical supplies increases during the COVID-19 pandemic, medical providers facing a shortage of Personal Protective Equipment (PPE) such as masks, gowns, gloves and face shields. Many local doctor's offices, long-term care facilities and hospitals are taking careful inventories, implementing stringent practices to preserve supply, and soliciting donations from community members and businesses.
COVID-19 Testing Information
Depending on your situation, there are different steps you should take to request a COVID-19 test from Samaritan. Please follow these instructions for your safety and convenience: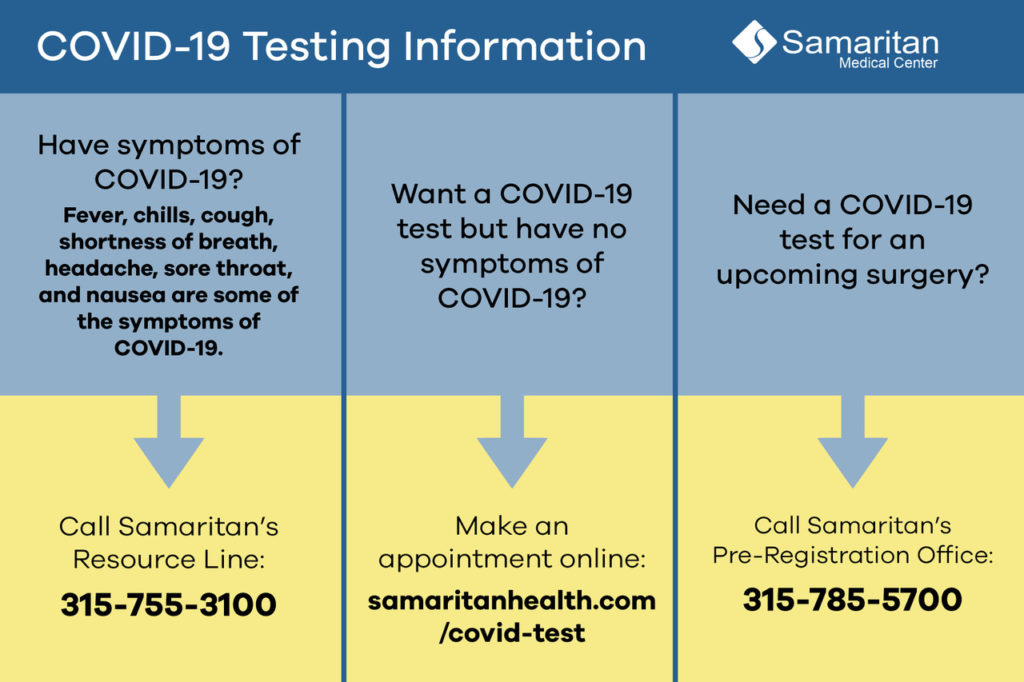 If you have symptoms of COVID-19 (fever, chills, cough, shortness of breath, headache, sore throat, nausea, etc.) — please call Samaritan's Resource line at 315-755-3100.
If you want a COVID-19 test but do not have symptoms — make an appointment online at samaritanhealth.com/covid-test.
If you need a COVID-19 test for an upcoming surgery, please call Samaritan's Pre-Registration Office at 315-785-5700.
After Your Test — Staying Healthy
You should limit activities and avoid social gatherings outside your home.
You should wear a face mask if you are outside your home. This is State law too, so please follow it.
Maintain social distancing of at least 6 feet.
Avoid contact with people who are sick.
Clean and disinfect frequently touched objects and surfaces in your surroundings.
Wash your hands often with soap and water for least 20 seconds. If soap and water are not available, clean your hands with an alcohol-based hand sanitizer.
Monitor your symptoms for fever, cough or respiratory difficulty.
If you develop any symptoms, please call your physician's office for further instructions
Getting Your Results
The fastest way to obtain your results is to create a patient portal through BioReference laboratory. You can do this online at bioreference.com/patient-portal. You can also reach BioReference laboratory by calling 1-888-279-0967.
Samaritan cannot provide test results over the phone for privacy reasons, so please do not call the Samaritan Resource Line for test results. If you do not have results within 7 days from BioReference, please call Samaritan Medical Records at 315-785-4198 for further help.
For negative results, expect an automated text message from Samaritan with your negative test results.
For positive results, expect a call from Jefferson County Public Health with further instructions.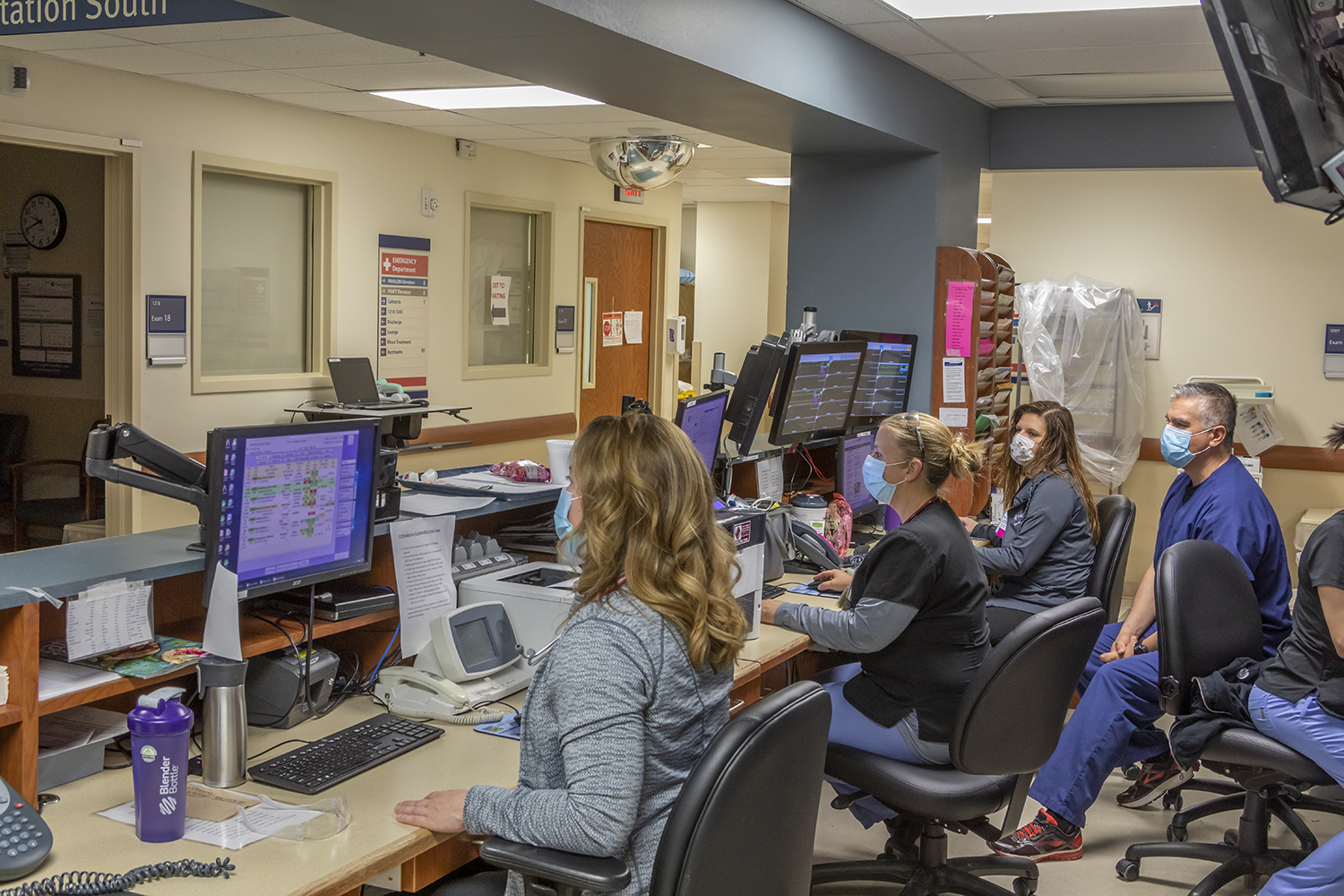 Call Our COVID-19 Resource Line
If you have questions or concerns about Coronavirus (COVID-19) or think you have symptoms, please call Samaritan's COVID-19 Resource Line at 315-755-3100. Medical professionals are standing by Monday-Friday from 8 a.m. to 4:30 p.m.