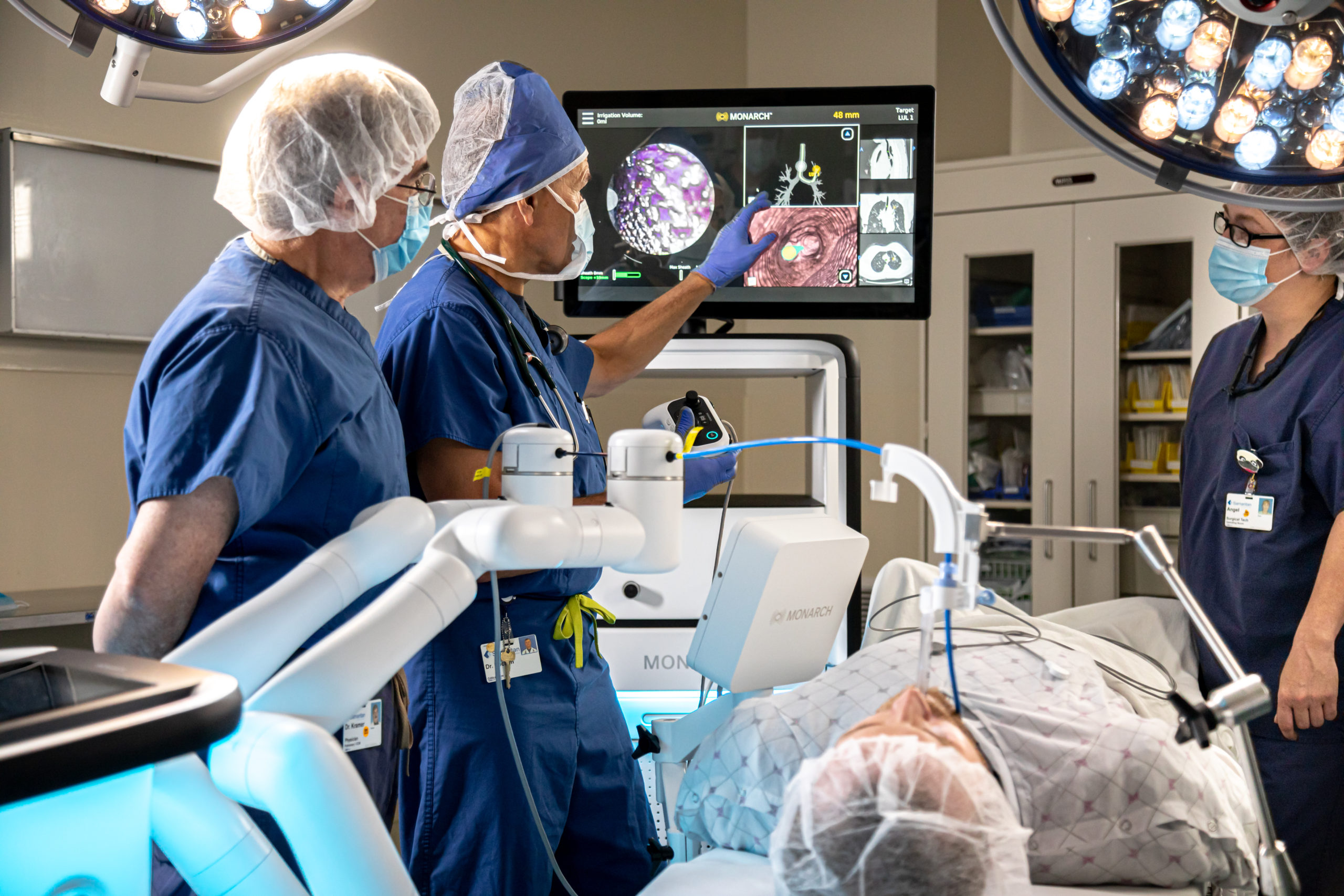 Better breathing starts with a stronger team.
Difficulty breathing changes everything. But so can the right team. At Samaritan, we offer comprehensive pulmonary care, provided by a team of board-certified pulmonologists. We also offer the best prevention, detection, treatment, and rehabilitation services in our region.
So whether you or a loved one is struggling with asthma, sleep apnea, or lung cancer—we can help. And, as the largest and most experienced pulmonary critical care service in the region, serious pulmonary conditions can be treated close to home.
We'll be there. To help you breathe easier and live better.
Samaritan Medical Center is proud to offer advanced procedures and programs that help detect and treat lung conditions – a comprehensive level of service only available here. Samaritans pulmonologists are credentialed to perform these specialized and advanced procedures. To learn more, talk to your family doctor about getting a referral.
Bronchoscopy
A bronchoscopy is a procedure that allows your doctor to look inside your lungs' airways, called the bronchi and bronchioles. The airways carry air from the trachea, or windpipe, to the lungs. A bronchoscopy can help find the cause of a lung problem. For example, during the procedure, your doctor may see:
A tumor
Signs of infection
Excess mucus in the airways
The site of bleeding
A blockage (such as a piece of food) in your airway
Your doctor also may take samples of mucus or tissue from your lungs to test in a laboratory.
Endobronchial Ultrasound
An Endobronchial Ultrasound, or EBUS, uses real-time ultrasound to identify and sample small abnormalities within your lungs without invasive surgery. This procedure is less invasive than conventional surgery. The EBUS system also makes biopsies safer and more accurate than conventional methods
Electromagnetic Navigation Bronchoscopy
An Electromagnetic Navigation Bronchoscopy, or ENB, is a specialized system of endoscopic tools and technology used along with traditional bronchoscopy to provide computer-driven GPS based on a patient's CT scan. The tools extend much further into the lungs than standard bronchoscopes, which enables the physicians to reach more of the lung tissue for a more accurate diagnosis.
ENB is an outpatient procedure, and patients are typically discharged the same day. The ENB technology provides a safer, lower complication risk alternative to traditional methods or the other approaches, such as "watchful waiting," as is the case with many patients diagnosed with lung cancer who are often non-surgical candidates.
Early Lung Cancer Screening Progam
Early detection is a proven, successful strategy for fighting many forms of cancer. Samaritan Medical Center offers low-dose computed tomography (CT) screening for people at high risk for lung cancer.
Lung cancer is the second most common cancer and the leading cause of cancer-related death in both men and women in the United States. Because lung cancer has no symptoms in its early stages, more than 85 percent of the men and women who are diagnosed with lung cancer today are diagnosed in a late stage, after symptoms occur and when there is very little chance of cure.
Samaritan's Early Lung Cancer Screening program can give you that chance. According to International Early Lung Cancer Action Program (I-ELCAP) research, a CT scan can find 85% of lung cancers in their earliest, most curable stage.
Learn More
Due to COVID-19, office hours may have changed and some locations are temporarily closed. Please contact us at the number below before visiting any Samaritan location.
Samaritan Pulmonology
19320 US Route 11
Building 3
Watertown, NY 13601