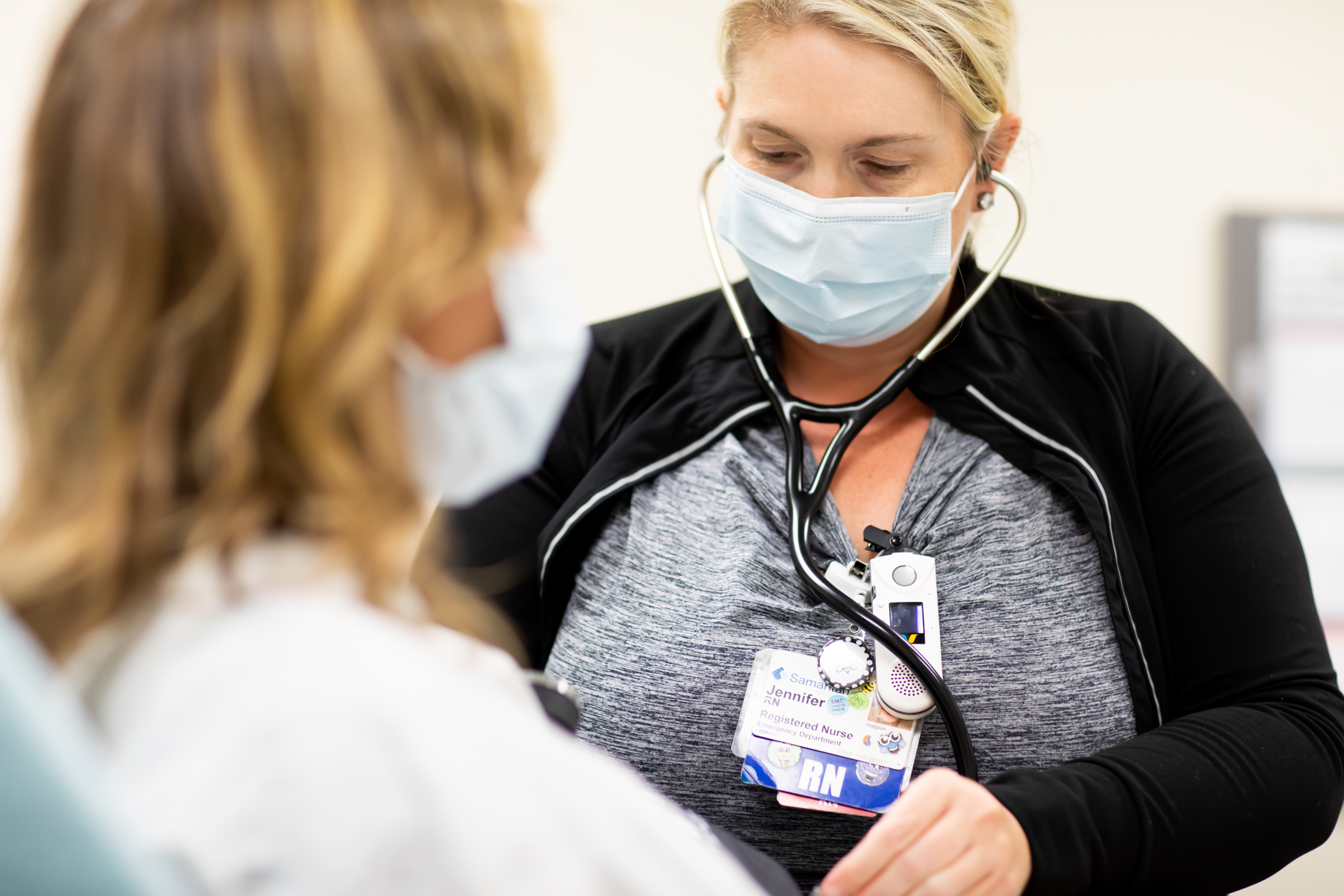 Save the ED for our community's emergencies.
Caring for patients with non-critical injuries or illnesses ties up our Emergency Department's (ED) resources and restricts our team's ability to provide life-saving emergency care. For our doctors, nurses and specialists to be there with exceptional care when it's needed most, the ED must stay accessible for our community's most severe and urgent conditions.
Mild COVID-19 symptoms? Visit a testing site.
If you are experiencing mild COVID-19 symptoms or have come in contact with someone who you believe is infected, please skip the wait at the ED and visit a testing site near you.
We're always here for you.
When you need emergency care, the Samaritan Medical Center Emergency Department is here for you seven days a week, 24 hours a day.
The Emergency Department staff is specialty trained with dedicated emergency medicine doctors, nurse practitioners, physician assistants and registered nurses with extensive clinical experience and emergency medical certifications. The Emergency Department team is complimented by numerous specialists (in over 45 different medical specialties) who are on call to consult with patients and determine the best course of action, whether that is surgery, admission to hospital, additional testing and more. Along with specialized staff, the Samaritan Emergency Department is well-equipped with advanced technology, 42 private rooms, a dedicated mental health services area, on-site radiology services, such as CT, ultrasound and MRI, and more. We also offer TV service in our patient rooms, as well as free WiFi for all of our visitors.
We know that your time is valuable, and that waiting while you're uncomfortable is never ideal. To make your visit as efficient as possible, we have implemented a new system that allows our staff to provide the most expedited care for all emergency visits. When you arrive, the staff will evaluate you and determine the level of care you need. This process will greatly decrease visit time for visitors that do not need to be admitted to the hospital.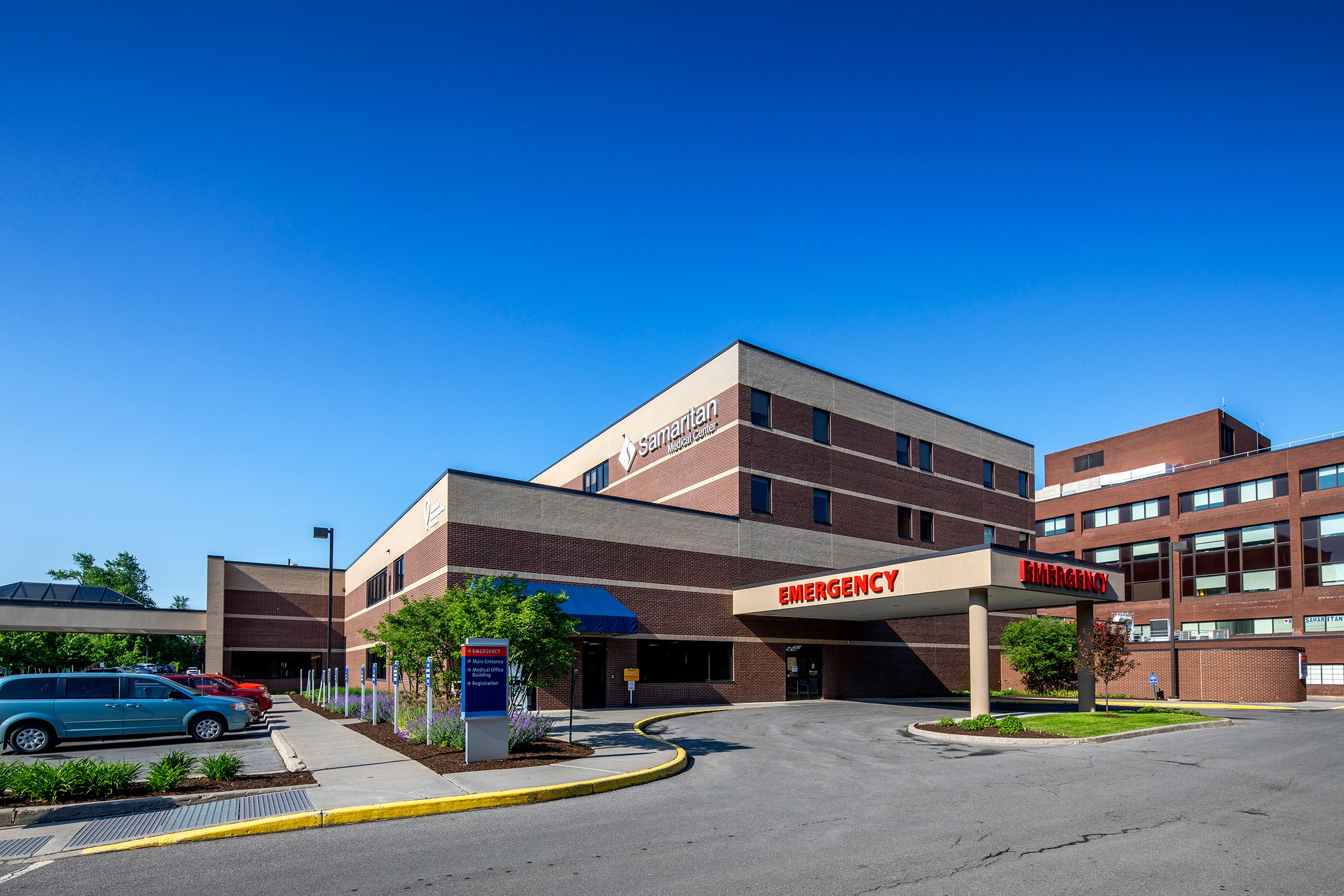 Important phone numbers:
911 – Use for All Emergency Situations
Poison Control: 1-800-222-1222 or TTY: 315-464-5424
Samaritan's Urgent Mental Health Hotline: 315-785-4516 – 24 hours a day, 7 days a week
Samaritan Medical Center Emergency Department: 315-785-4100
Victims' Assistance Center (Domestic Violence): 315-782-1823
Mobile Crisis Services: 315-782-2327 – 24 hours a day, 7 days a week
Child Protective Services: 315-785-507
When you should go to the emergency department:

Close

Some of the following warning signs may indicate a medical emergency and signal when you should proceed to the nearest Emergency Department:

Difficulty breathing, shortness of breath
Chest or upper abdominal pain or pressure
Fainting, sudden dizziness, weakness
Changes in vision
Confusion or changes in mental status
Any sudden or severe pain
Uncontrolled bleeding
Severe or persistent vomiting or diarrhea
Coughing or vomiting blood
Suicidal feelings
Difficulty speaking
Shortness of breath
Unusual abdominal pain

Also please remember that symptoms that are serious for a child may not be as serious for an adult. Children may also be unable to communicate their condition, which means an adult will have to figure out the behavior. Always get immediate medical attention if you think your child is having a medical emergency.

When you should call 911:

Close

Many times, it's very clear that an ambulance needs to be called, such as in the case of an auto accident or heart attack. But other times, when symptoms are unclear, those in need may be reluctant to dial 911. We often hear, "We didn't think it was necessary to call an ambulance" or "We didn't want to bother them." When in doubt, play it safe and call the emergency experts.

Consider these tips for calling 911:

Call any time a victim's condition is life threatening or could worsen and become life threatening
Call any time moving a victim could cause further injury
Call any time when traveling to a hospital will take too long without the support of an on-board paramedic and an emergency response vehicle

Please remember that visits for minor illnesses, injuries, medical releases and work release orders may not require the high level of care available in the emergency department.
Our Location
Due to COVID-19, office hours may have changed and some locations are temporarily closed. Please contact us at the number below before visiting any Samaritan location.
Samaritan Medical Center
Emergency Department
830 Washington Street
Watertown, NY 13601