Maternity
The highest level of care.
For our most precious patients.
Nothing is more precious than our children. That's why at Samaritan, we do everything in our power to help them come into the world healthy and happy.
The Car-Freshner Center for Women and Children at Samaritan offers the only Level II Neonatal Intensive Care Unit—and the highest level of care for a newborn—in Northern New York. Not only does our team of highly trained specialists provide comprehensive labor and delivery services, they also deliver the most babies locally each year. And with our newly added private rooms, reserved parking and dedicated entrance for mothers, we're making receiving care more comfortable than ever before.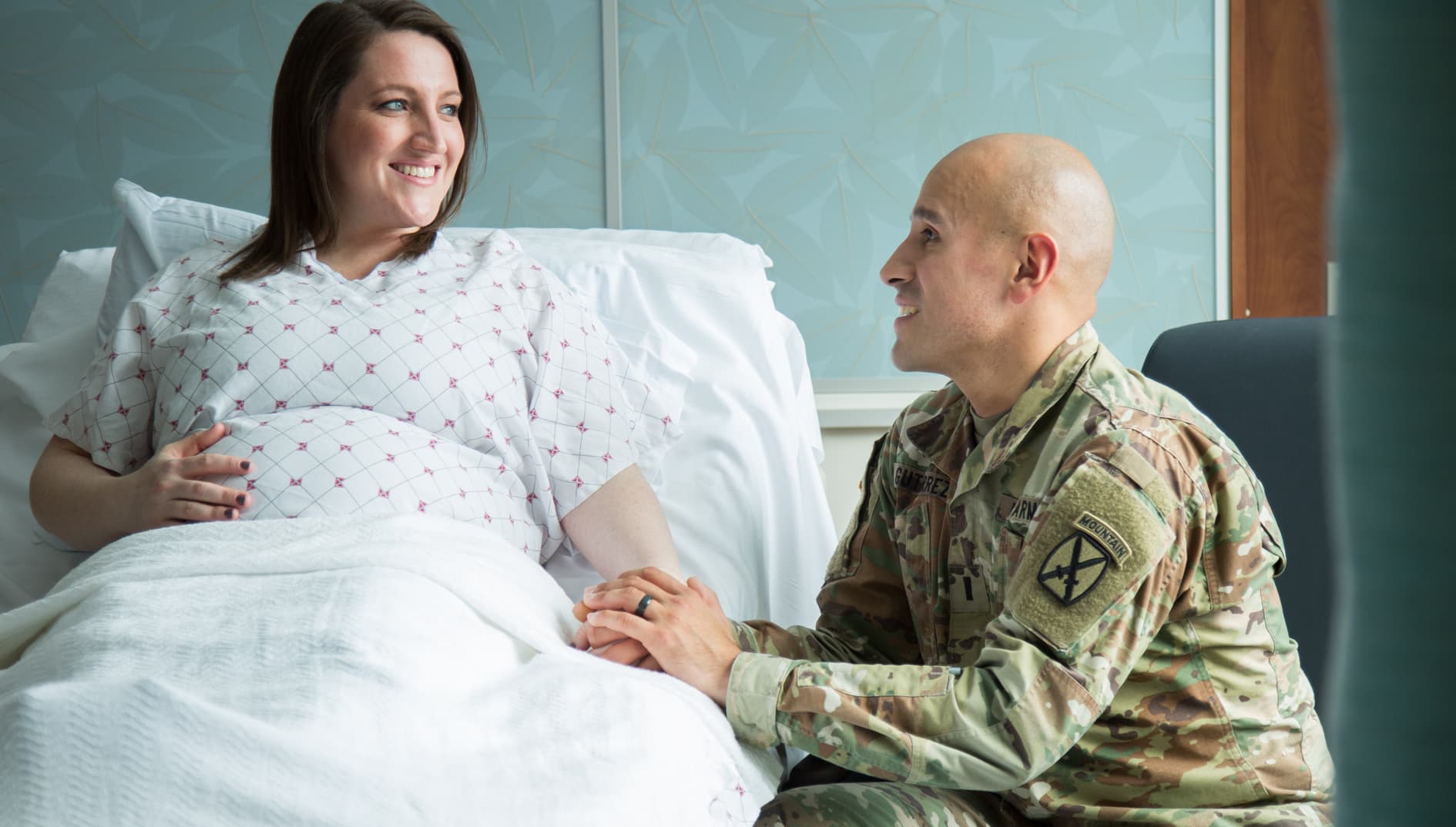 Rooming-in for mother and baby
Private mother/baby rooms whenever possible
Dedicated parking and entrance for families
Our staff delivers and cares for 1,600 babies on average each year. The Car-Freshner Center for Women and Children features mother/baby rooms, eight brand new labor and delivery rooms, a C-section suite, and the area's only Level II Neonatal Intensive Care Unit with 12 beds and enhanced privacy – making Samaritan the largest and most comprehensive maternity services provider in our area.
In addition to the experienced and compassionate staff at Car-Freshner Center for Women and Children, there are many other reasons for expectant mothers to deliver their babies at Samaritan Medical Center, including:
Brand new labor and delivery unit with eight private rooms
Spacious newly renovated mother-baby rooms with abundant natural light and space
We encourage visitors and family
Special infant security feature for all babies
Lactation specialists for assistance with breastfeeding
Many FREE childbirth classes
Nursing staff who specialize in maternal and infant care
For our military families
It is an exciting and cheerful time when a family is expecting the birth of a newborn baby. Samaritan Medical Center recognizes that military families may face extenuating hardships during this otherwise joyous occasion.
Samaritan is proud to partner of the Soldier Family Readiness Division, which offers the Fort Drum New Parent Support Program. This program offers expectant military parents and parents of newborns and young children the opportunity to learn new skills as parents and also improve old ones. For more information about this program, please visit their website or via phone: 315-772-5149.
Saving Kristie
When Katie and Christopher Dandrow decided it was time to bring their young daughter Kristie to Samaritan's Emergency Department, they were not expecting all that happened after. Watch the whole story.
Labor Pain Management
Comfort is crucial to any mother's child-birthing experience. Our staff is committed to providing our expectant mothers of Northern New York and Fort Drum with a positive experience by offering several options and tools available for expectant mothers.
Neonatal Intensive Care Unit
Samaritan Medical Center's Level II Neonatal Intensive Care Unit (NICU) is a very special place where we care for our tiniest patients – babies delivered at 32 weeks and older that need a little extra care before they can go home. Our 24-hour neonatology coverage is unique to Northern New York and the Fort Drum community. We are the only Level II NICU north of Syracuse, and the care that we provide is exceptional.
---
---
Maternity Place Honor Roll
The Children's Miracle Network of Northern New York at Samaritan is pleased to offer a very special way in which parents, grandparents and friends can commemorate this wonderful birth event. The Maternity Place Honor Roll is a unique tribute that, unlike flowers or clothing, will last a lifetime.
Classes
The Center for Women and Children at Samaritan offers many resources and classes to moms and dads. For more information about any of these opportunities, please call 315-785-4050. All classes are all held in the 2nd floor Conference Rooms at Samaritan Medical Center, use the Pratt Elevator (C).
Due to COVID-19, office hours may have changed and some locations are temporarily closed. Please contact us at the number below before visiting any Samaritan location.
Samaritan Center for Women and Children
Samaritan Medical Center
830 Washington St.
3rd Floor – Use Sherman St. Entrance for dedicated parking and entrance
Watertown, NY 13601