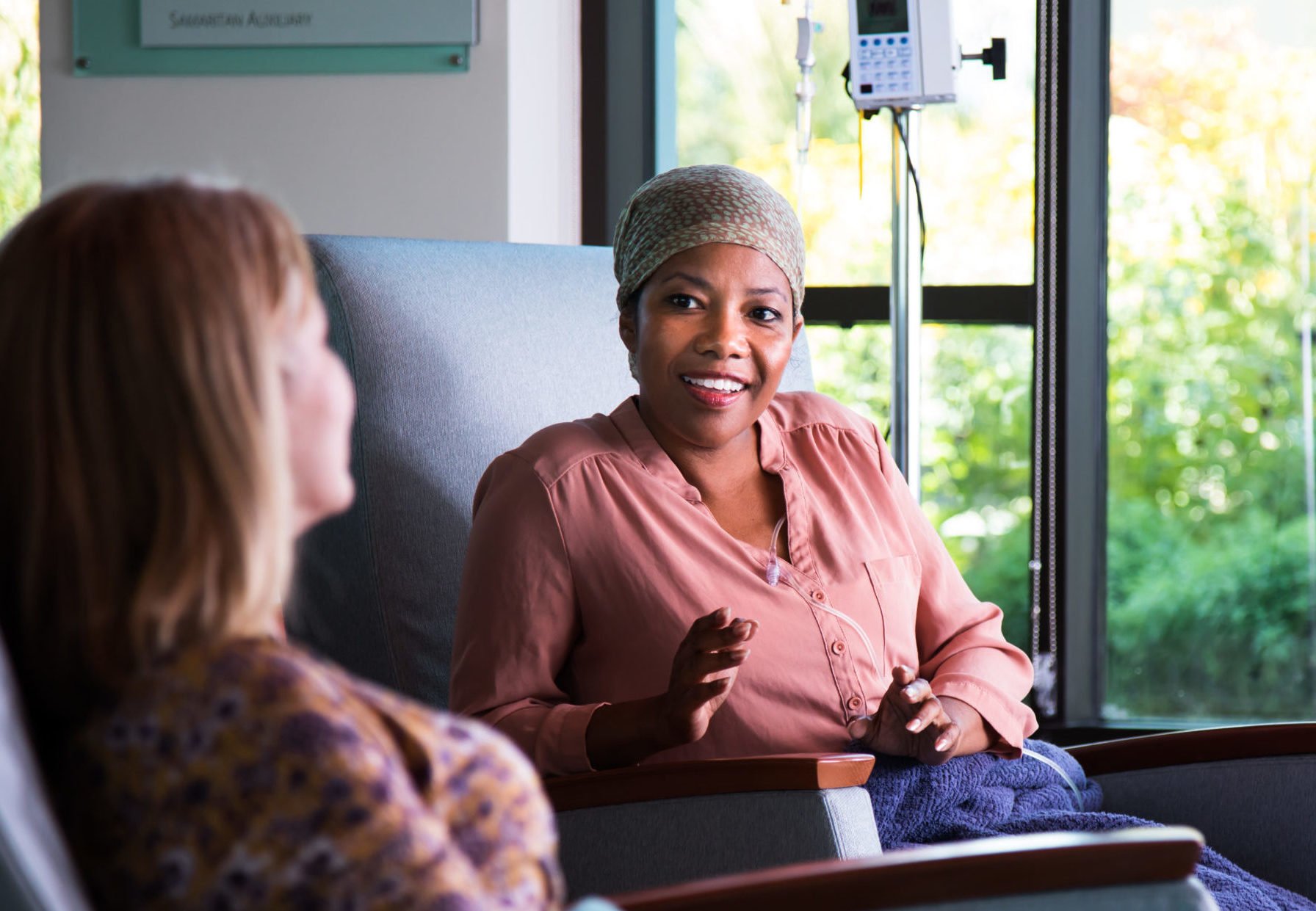 Palliative Care
Palliative care is a specialty of medicine and nursing that focuses on controlling symptoms, relieving suffering, and providing support for patients with any serious illnesses, including cancer.
Star Center for Symptom Treatment and Relief
Starting July 1, 2022: Samaritan Medical Center will be assuming operations and the continuation of palliative care services that the STAR Center for Symptom Treatment and Relief has been providing to the community for the past three years under Hospice of Jefferson County.  Due to changes in physician referral patterns, Hospice leadership has determined Samaritan should maintain this service in our community.
The STAR clinic will be closing its office on Washington Street in Watertown on June 30, 2022 and Samaritan will assume operations on July 1, 2022. The palliative care clinic will relocate to the Walker Center for Cancer Care in the interim.
Palliative Care is a medical specialty serving all those with serious, progressive and/or potentially life limiting illness that focuses on symptom management, quality of life, and goals of care.  Kathy Matas, Ph.D. ANP, a provider at the STAR clinic will now be working for Samaritan to provide the same level of palliative care for the Samaritan system. The STAR Center treats patients needing palliative care management for many different diagnoses, including cancer. Samaritan's decision to relocate the clinic to the Walker Center for Cancer Care does not mean that only individuals with cancer will be seen. The clinic will provide palliative care to all patients with serious illnesses who need assistance with symptom management and social support.
Samaritan helped to financially support Hospice three years ago to launch this service for the community.  Samaritan's Board of Directors and leadership team are now pleased to be in a position to maintain and further develop palliative care in our community.
New patients are being accepted with a referral and can call 315-785-4673 to make an appointment.
Palliative Care for Cancer
Palliative care can help patients with any type or stage of cancer, and it can be provided alongside other cancer treatments, such as chemotherapy, radiation, or surgery. Patients who receive palliative care often report improved quality of life, and those who begin palliative care early in their disease course may live longer than if they did not receive palliative care, or received it later in the disease course.
Palliative care teams are usually made up of physicians/nurse practitioners, nurses, social workers, chaplains, pharmacists, and sometimes include nutritionists, physical and occupational therapists. They work in many settings, including hospitals, outpatient clinics, and sometimes in nursing homes or patient homes.
Frequently Asked Questions
Who should receive palliative care, and when?

Close

Palliative care may be appropriate for you if…

You have advanced cancer.
You experience difficult-to-treat pain or other symptoms.
You or your family need more help coping with the diagnosis.
You or your family need help deciding about further treatments.

Patients and oncologists work together to form treatment plans. Oncologists are trained to manage common symptoms, such as pain and nausea, and to provide emotional support.

However, sometimes the burden of the disease is high and requires more time and skill than an oncologist can provide. Palliative care specialists can step in and use their expertise to help manage distressing symptoms and provide emotional support.

What are the benefits of palliative care?

Close

When received with treatment from your oncologist, palliative care can…

Help patients manage previously difficult-to-treat symptoms from the cancer or treatment side effects, such as pain, constipation, and shortness of breath.
Guide patients and their caretakers through the course of their disease and help them understand what to expect at each stage.
Provide practical, emotional, and spiritual support for the patient and their family.
Grant patients access to specialized services, such as support groups and home supports.
Help a patient determine a spokesperson in the event they are too sick to make medical decisions, and assist with medical decisions when the cancer is difficult to treat.

Will my health insurance help pay for palliative care?

Close

This depends on your specific benefit and treatment plan, but Medicare, Medicaid, and most commercial insurances cover palliative care referrals. Check with your health insurance provider to see what your plan offers.
Making an Appointment
Ask your oncologist or primary care provider for a referral to Palliative Care at the Walker Center for Cancer Care. For more information, please call 315-785-4673.
Our Palliative Care Provider