Rehabilitation
The Rehabilitation Services Department at Samaritan Medical Center is dedicated to helping patients safely return to independence after a medical intervention, such as surgery, treatment or hospitalization, whether you are admitted to the hospital or visiting our outpatient services.
The Rehabilitation Services Department works collaboratively with other members of the hospital team to provide educational and discharge planning services for each patient and their family. Regardless of your condition or diagnosis, the clinical staff focuses on individualized care that includes a full complement of therapies, including: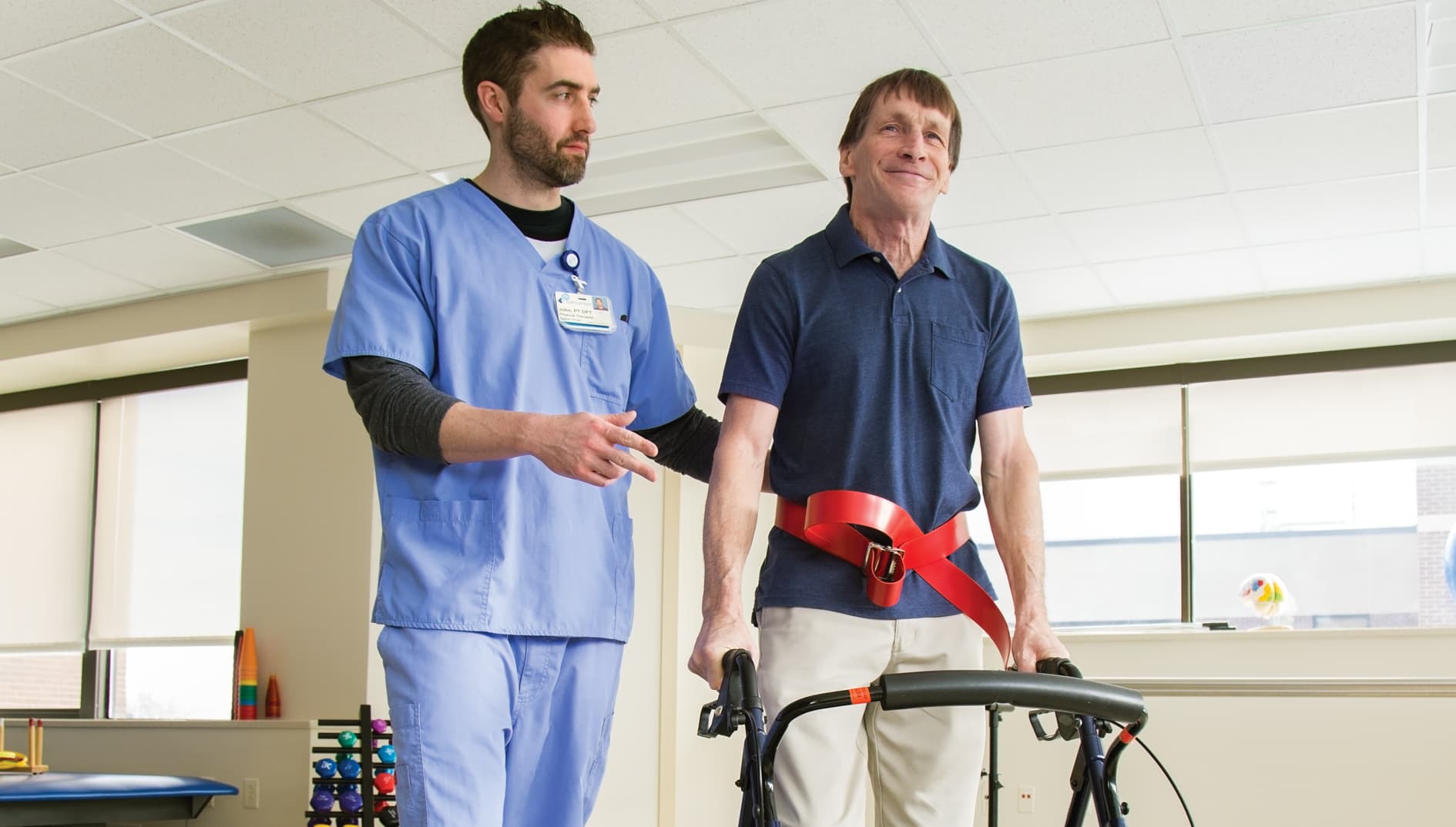 Physical therapy
Acute inpatient rehabilitation
Sub-acute inpatient rehabilitation
Cardiac rehabilitation
Lymphedema therapy
Occupational therapy
Speech therapy
Pulmonary rehabilitation
Physical therapy
Physical therapy helps individuals regain function through strengthening and re-educating weak muscles, increasing joint motion, and restoring flexibility, coordination and mobility. Our staff is well trained and well equipped to provide the personalized care each patient needs.
Acute inpatient rehabilitation
The acute inpatient rehabilitation program is designed to help you learn new skills, how to use special equipment and how to do things safely for yourself so you can return home as quickly as possible. We place strong emphasis on family/caregiver training for anyone who may need some help when they go home. We are proud to say 98% of our patients are able to return home.
---
Sub-acute inpatient rehabilitation
Samaritan Keep Home and Samaritan Summit Village provide a comprehensive sub-acute (short-term) inpatient rehabilitation program designed to help you along the road to recovery from surgery, an accident or illness. Our multidisciplinary team of rehabilitation professionals is dedicated to helping you return home and resume your life to the fullest extent possible.
---
Cardiac rehabilitation
Cardiac rehabilitation helps people with heart problems or people at risk for heart problems such as heart attack, bypass surgery, stable angina, valve surgery, congestive heart failure and stents. The Cardiopulmonary Rehabilitation Department is located on the 4th floor of the hospital and can be reached by using the Pratt Elevator (C). You can contact the department by calling 315-785-4208.
---
Lymphedema therapy
Samaritan Medical Center's lymphedema therapy program focuses on providing individualized treatment to minimize your symptoms, maximize your comfort and restore movement. In addition, each patient is taught techniques to help manage and control the condition at home.
Occupational therapy
Our comprehensive occupational therapy program helps patients regain functional independence by restoring self-care activities, such as eating, dressing, bathing, grooming, home maintenance and meal preparation.
---
---
Speech therapy
Speech therapy provides identification, consultation, rehabilitation, referral and prevention services to assist with communication and swallowing disabilities for patients of all ages. We are pleased to care for our patients' needs during acute hospitalization, and continued services are offered on an outpatient basis.
Pulmonary rehabilitation
Pulmonary rehabilitation provides ongoing care for people living with lung disease such as chronic obstructive pulmonary disease, chronic bronchitis, emphysema, occupational/environmental lung disease, neuromuscular disease, cystic fibrosis, pulmonary hypertension, interstitial lung disease, heart-lung transplant and restrictive chest wall disease. The Cardiopulmonary Rehabilitation Department is located on the 4th floor of the hospital and can be reached by using Pratt Elevator (C). You can contact the department by calling 315-785-4208.