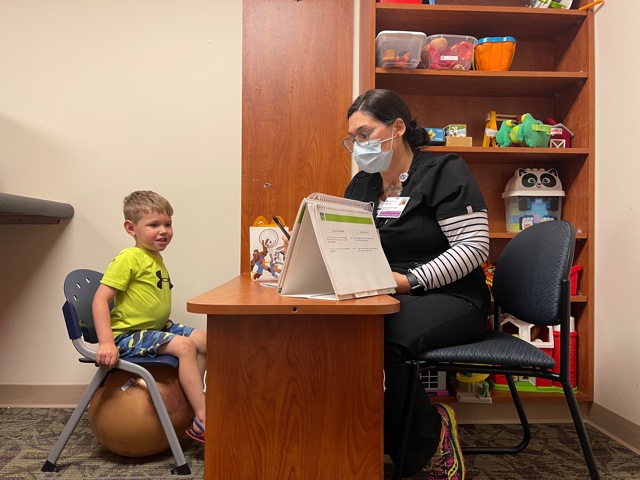 Speech Therapy
Speech therapy provides identification, consultation, rehabilitation, referral, and prevention services pertaining to communication and swallowing disabilities for patients of all ages. We are pleased to care for our patients needs during acute hospitalization, and continued services are offered on an outpatient basis.
Our department works closely with your physician and specialists such as the Ear, Nose and Throat (ENT) physician or pediatrician to ensure outstanding care for you or your loved ones. Our hours are flexible to meet the needs of our community.
New Patients
All therapy services require a referral/order from a medical provider which can include your primary care provider, pediatrician, ENT specialist or any licensed provider in New York State.
Once you have a therapy referral/order call 315-785-4088 to make an appointment with one of our highly trained Speech/Language Pathologists (SLPs).
For your first appointment please plan to arrive 15-20 minutes early allowing time to get your onboarding paperwork completed.
Please bring the order from your provider for therapy, your insurance card, photo ID, and medication list.
You will enter Samaritan Medical Center through the Registration entrance next to the parking garage. After you are screened at the entrance you can come directly to the therapy department to register. No need to stop in the general registration area.
If you have questions and want to speak to one of our SLPs, please call us and we will be happy to help you!
Our Focus Areas
Adult Communication Disorders

Close

Stroke-related and other neurologically based communication deficits
Laryngectomy
Tracheoesophageal prosthesis management
Voice disorders
Communication problems associated with Traumatic Brain Injury (cognitive retraining)
Augmentative/Alternative Communication Systems
Stuttering
Communication management for Tracheostomized and Ventilator dependent patients

Pediatric Communication Disorders

Close

Delayed/disordered speech and language
Articulation problems
Communication disorders related to hearing loss
Stuttering
Traumatic Brain Injury
Augmentative/Alternative Communication Systems

Swallowing Disorders, Treatments & Evaluation Techniques Available

Close

Swallowing difficulties related to stroke, Parkinson's, MS or other neurologic conditions
Frequent coughing during or immediately following swallowing
Choking
Painful or delayed swallowing
Drooling
FEES (Fiberoptic Endoscopic Evaluation of Swallowing) tool: A non-invasive endoscopic procedure that can be done in any medical setting to allow the SLP to visualize the mechanism of swallowing and assess for deficits
Modified Barium Swallow study: as special x-ray that allows the radiologist and the speech language pathologist to identify why you are having trouble swallowing
Dysphagia Therapy: treatment geared to restore or maintain normal swallowing, prevent aspiration and/or to determine a safe diet consistency to ensure adequate nutrition