Take Control of Your Health.
Samaritan Medical Center realizes that good health takes planning, information and support. We therefore offer a Healthy Lifestyle program designed to teach you how to self-manage your own health and enhance your fitness and overall wellness. The program uses a comprehensive approach to chronic disease treatment and prevention that includes nutrition, exercise and behavior therapy. The program is physician monitored and hospital-based. Education is provided in both group and individual settings, for adults and children. Progress reports are provided to your physician.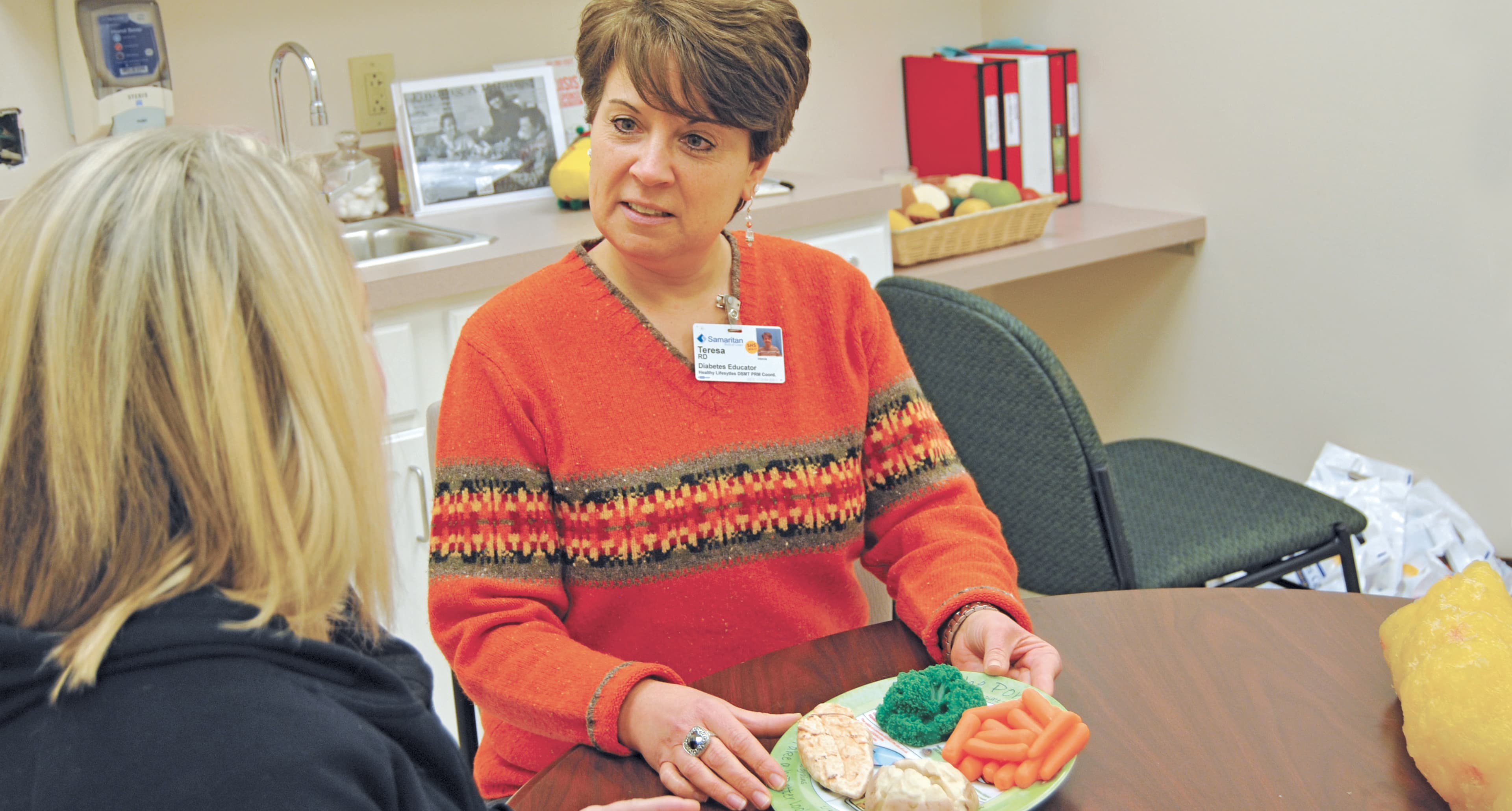 Who Can Benefit from Healthy Lifestyles?
Any adult or child with:
Obesity
Diabetes
Celiac Disease
Eating Disorders
Heart Disease
Lipid/Cholesterol
Cancer
Hypertension
Lung Disease
Failure to Thrive
Tube-Feeding
All services require a physician referral. Please contact your insurance company to verify coverage.
Weight Management & Wellness
If you are tired of eating extra on stressful days, or sick of being on a diet, but still unable to say "no thank you" to food, then Samaritan Medical Center's Healthy Lifestyles Weight Management & Wellness program may be for you.
The Weight Management & Wellness program is designed to give adults the tools they need to be successful in first losing pounds and then managing a healthy weight for life. You'll learn how to develop healthy eating habits, shop smart at the supermarket, make a menu within your budget, get energized with exercise, dine by design, survive the holidays and the barbecue season, control emotional eating/cravings, and use all of your new knowledge to maintain a healthy lifestyle for the rest of your life. Each class begins with 15 minutes of walking, followed by 45 minutes of interactive education. Anyone who wants to begin a new life of healthy exercise and eating habits should enroll. The class is open to all, regardless of weight or physical condition.
Caring for Diabetes
Healthy Lifestyles' Caring for Diabetes program is designed to assist individuals in understanding, coping, and living successfully with diabetes. Since each person with diabetes is affected differently, our staff develops an individual plan of care that meets each patient's specific needs and expectations. Among the subjects that may be taught are how to use your glucometer and what the numbers mean, checking your blood sugar, recognizing and treating low and high blood sugar levels, carbohydrate counting to plan meals and improve your blood sugar control, how stress may affect diabetes, the importance of being active, possible complications caused by diabetes and much more. This knowledge builds confidence, allowing people with diabetes to achieve and maintain good health.
Who do we help?
Any adult or child with Type I, Type II, or gestational diabetes, as well as those with pre-diabetes or impaired glucose tolerance should enroll.