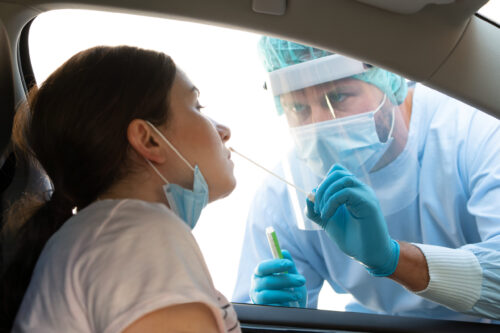 Samaritan Health drive-up COVID-19 testing site will be closed starting April 1st, 2023.
Samaritan Medical Center will no longer require COVID-19 testing prior to outpatient surgical procedures effective Saturday, April 1, 2023, in accordance with New York State Department of Health guidance. Exceptions to this are surgical patients scheduled to be an inpatient post-surgery or any surgical patient with symptoms or at the provider's discretion. Those patients will test on the day of scheduled surgery upon arrival and admission to the hospital. All patients will be screened for any COVID-19 symptoms before the procedure. Any patient that is sick or ill will be rescheduled for their surgical procedure.
As a result of this change, Samaritan's COVID-19 Drive-Up Testing Site at 1575 Washington Street, Watertown, will close effective April 1, 2023. Other testing sites are available at local pharmacy locations as well as North Country Family Health Center, 238 Arsenal Street, Watertown, NY, 315-775-7777. For a full listing of community-based COVID-19 testing sites, visit www.hhs.gov/coronavirus/community-based-testing-sites 
Have COVID-19 Symptoms?
Call Samaritan's Resource Line at 315-755-3100 and schedule a test. You may also call with questions about COVID-19 symptoms or for more information.
Other Locations
Tests are available at other locations, including local urgent care clinics, pharmacies, and the North Country Family Health Center. Use the New York State COVID-19 Test Site Finder to locate sites near you.