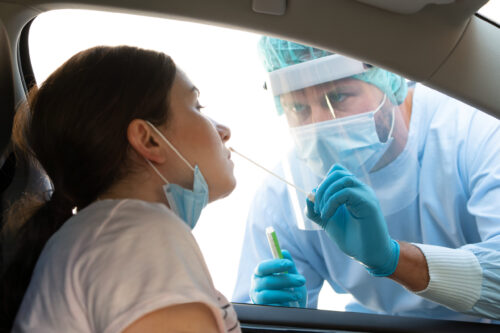 Need a COVID-19 Test?
You have options.
Whether you prefer drive-up testing, have symptoms and need a test or visiting your local urgent care facility, COVID-19 tests are available locally. Continue reading for more information on testing sites run by Samaritan, and others in the community.
Have COVID-19 Symptoms?
Call Samaritan's Resource Line at 315-755-3100 and schedule a test at our drive-up testing site. You may also call with questions about COVID-19 symptoms or for more information.
Need a Test For Surgery?
Most hospitals require a COVID-19 test before a surgery or procedure.  Samaritan's Drive-Up Testing Site can do this regardless of where you are having surgery.  These tests are typically covered by insurance.  To schedule your test, you must call our pre-encounter department at 315-785-5700.
Samaritan surgical patients will be called directly or have an appointment made for them.
---
---
Have No Symptoms?
We offer COVID-19 PCR tests through our drive-up testing site with results within 1 to 2 days, please select the $100 option 'COVID-19 Testing' appointment type and you will be directed to payment processing.
Please note that NYS has stopped all FREE COVID testing at the Samaritan Drive-Up location as of February 25, 2022.
Other Locations
Tests are available at other locations, including local urgent care clinics, pharmacies, and the North Country Family Health Center. Use the New York State COVID-19 Test Site Finder to locate sites near you.