Your Hospital Stay
Being admitted to the hospital can be a stressful time for patients and families, especially if the stay isn't planned. Samaritan Medical Center wants to make sure every patient's experience is as comfortable and positive as possible.
Please keep reading for more information on your hospital stay, including:
Registration and Admission Procedures
Inpatient Room Services
Dietary Services
Discharge Planning
Spiritual Care
In order to help you get settled quickly, your hospital stay will begin in one of three specialized areas:
Direct Admission (from your doctor's office)
Direct admissions are coordinated through the Registration area located on the 1st floor, adjacent to the parking garage. Please use the Registration entrance.
Emergency Department Admission
If you are being admitted through our Emergency Department, the hospital staff will handle all aspects of your admission from there.
---
Surgical Admission
If you are having a surgery that requires hospitalization afterward, you will be pre-registered before the day of your surgery, and staff will explain the entire process to you. On the day of your surgery, you can report directly to the Surgical Care Center by taking the Surgical Elevator (A) in the main hospital lobby.
What to Bring:
Please be sure to bring all relevant documentation to ensure that the admission process is as seamless as possible. This includes:
Your insurance card(s)
Photo identification
Health Care Proxy
A list of your current medications. Please use our Patient Home Medication List for your own records to keep track of your medications. You can enter your medication information directly in this brochure and print or save it for your own records. You will be given an identification bracelet that contains information needed for staff to provide you with the highest quality care. Please wear this bracelet at all times. We will ask you to sign a consent form (parents or guardians must sign for dependent minors and a legal or other responsible party will be asked to sign for patients who are unable to sign). This consent form will allow us to care for you in the best possible way.
If you have questions about the Admission process here at Samaritan, please call us at 315-785-4095.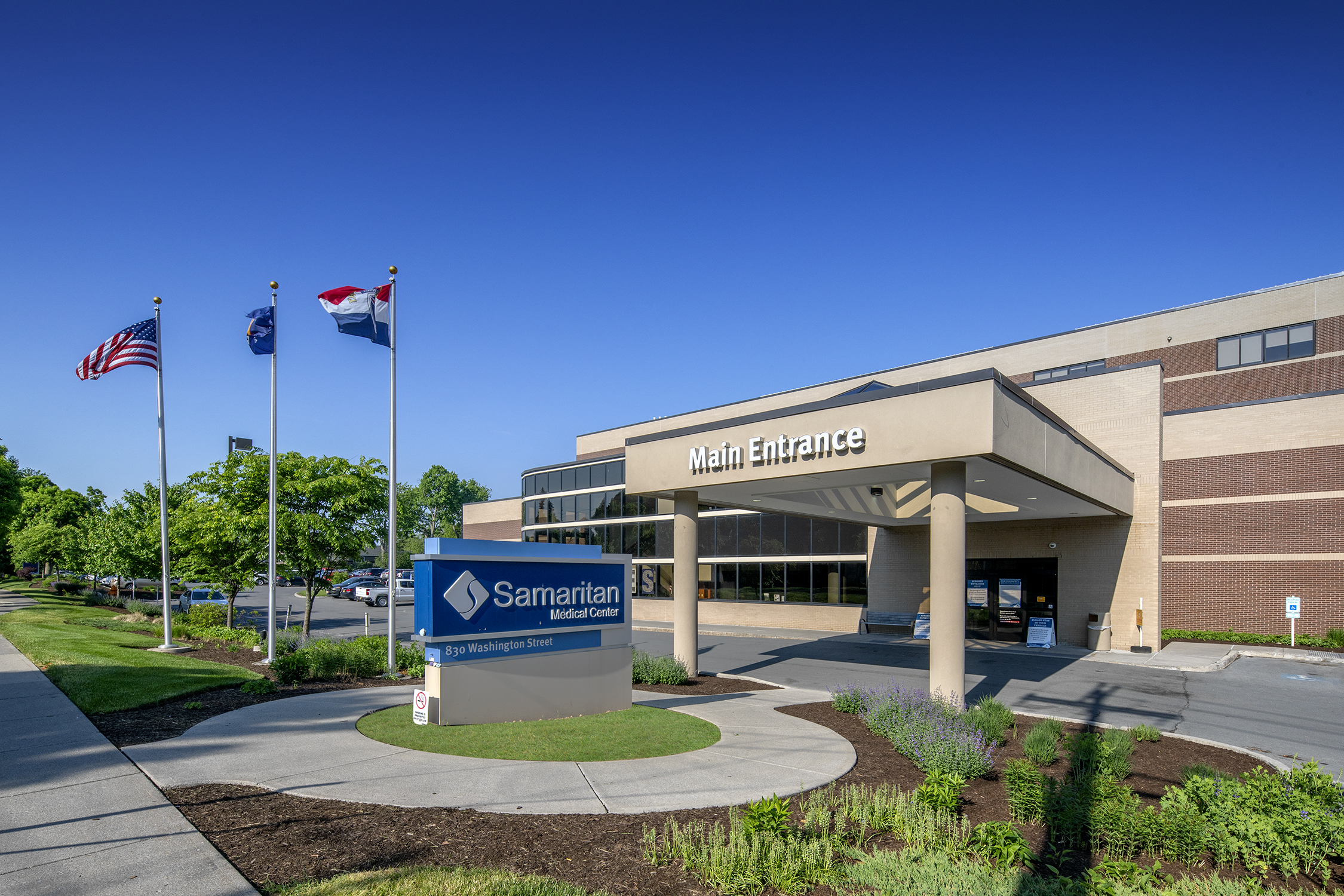 Inpatient Room Services
We strive to always provide you with the best care possible in a comfortable, calm and healing environment. Once you are settled into your room, please know that your care team is here to exceed your expectations, from nursing care to dietary needs, and everything in between.
You can read about all of our Inpatient Room Services in our Patient Guide. All inpatients receive a free printed copy of this helpful guide in their hospital room.
Dietary Services
"Hospital food" isn't what it used to be—at least for Samaritan Medical Center patients. Our hospital offers room service to patients and guests, further strengthening our commitment to patient-focused care.
The room service program allows patients to view a complete menu offering breakfast, lunch, and dinner options, including daily specials. When patients are ready to order, they simply call room service and clinical diet aides are ready to take their calls. The food is cooked to each patient's specifications, just like in a restaurant, and then delivered to the patient's room within 45 minutes of the order being placed.
Room service is available seven days a week
Breakfast: 6:30 a.m. – 9:30 a.m.
Lunch: 11:30 a.m. – 2:00 p.m.
Dinner: 4:30 – 7:00 p.m.
A continental breakfast or a pre-packaged meal is available between room service times. When you call room service, our staff is also able to make suggestions for special diets if items requested are not within the doctor's orders. The menu provides choices for vegetarian, low sodium, sugar-free and low fat diets – and special kids' menus are available, too.
Dial extension 3000 from your hospital room phone.
Spiritual Care
Samaritan Medical Center believes that spiritual care is an important part of providing care to Northern New York and the Fort Drum community. If you or someone you love is hospitalized and would like to speak to one of our spiritual/pastoral care staff, please ask your nurse to contact us or you may call us directly at 315-786-4948.
Some reasons you might call:
Spiritual encouragement
Prayer
Sacraments or religious rituals
Spiritual support in time of stress
Contact with your home congregation or clergy
Spiritual literature or materials
Family support
Help in interpreting your spiritual needs to staff
Worship
We currently do not provide regular opportunities for community worship for those who are hospitalized at Samaritan. However, for those who are able to leave their room and floor independently or for your friends and family, there is a meditation room and chapel on the first floor of the hospital. The room is open at all times and provides a place for quiet reflection.
Discharge Planning
Samaritan realizes that one of the first things many people think of when they are being admitted to the hospital is "when am I going home?" Going home can be scary when thinking about your care and whether you have a family member or friend able to help you. At Samaritan Medical Center, not only do we want your admission and stay with us to be very good, we also want your discharge to be very good.
Preparation before Discharge

Close

Your doctor will tell you and your care team the likely date for discharge. This date may change during your stay depending on your progress, test results, etc. You may need short-term rehabilitation or assistance at home following your hospital stay.

Please note: Let your nurse know if your ride will not be available to pick you up by 12 noon on the day of your discharge. We will be happy to help you arrange other transportation if needed. If you will need to go home by taxi, please arrange to have your house keys available.

Many physicians visit their patients early in the morning, some as early as 6:30 am. This is a good time for you and your family to plan your discharge or transition.

Please let us know if you are in need of help arranging care in your home.

You and your family are welcome to request assistance from our Patient & Family Services staff as you begin planning for your return home. Your nurse can contact a member of the Discharge Planning team for you. Your physician and care team will work with you to get all details of your discharge arranged.

Any questions that you have about any new diagnoses, treatments or medications are best asked as soon as possible into your hospital stay so as to avoid any delays in the discharge process. Your safety and comfort at discharge are our primary concerns.

The Quality of Your Care is of Great Importance to Us

Close

Our Goals

Safely discharge you as early in the day as possible with 12:00 p.m. as our goal.
Include all people who you want to be part of your discharge planning and instructions.

How You Can Help

Tell us who you want to have included in your discharge planning and instructions.
Ask questions about your continued care and treatment.

Discharge time is typically before 12:00 p.m.

Discharging early in the day enables you to obtain any new prescriptions written for you and to settle in to your home while your physician is available for questions. You and your family should have a plan in place to pay for any new prescriptions.

Your physician and care team will discuss your medications and instructions before you leave the hospital. Information about follow-up treatments or appointments that you will need to schedule will also be provided.

Your medications are carefully reviewed by your doctor(s) and nurses. It is imperative to your recovery that you take your medications exactly as listed on your discharge information. If you have any questions, please do not hesitate to ask your nurse.
After you leave the hospital, you may receive a survey in the mail. Your responses will help us to recognize our employees and continue to improve the quality of our service.

Being prepared for your discharge is critical to the success of your recovery. Samaritan is committed to providing you the best care when here, and the best plan to make sure your discharge is easy and your road to recovery is successful.Samaritan realizes that one of the first things many people think of when they are being admitted to the hospital is "when am I going home?" Going home can be scary when thinking about your care and whether you have a family member or friend able to help you. At Samaritan Medical Center, not only do we want your admission and stay with us to be very good, we also want your discharge to be very good.