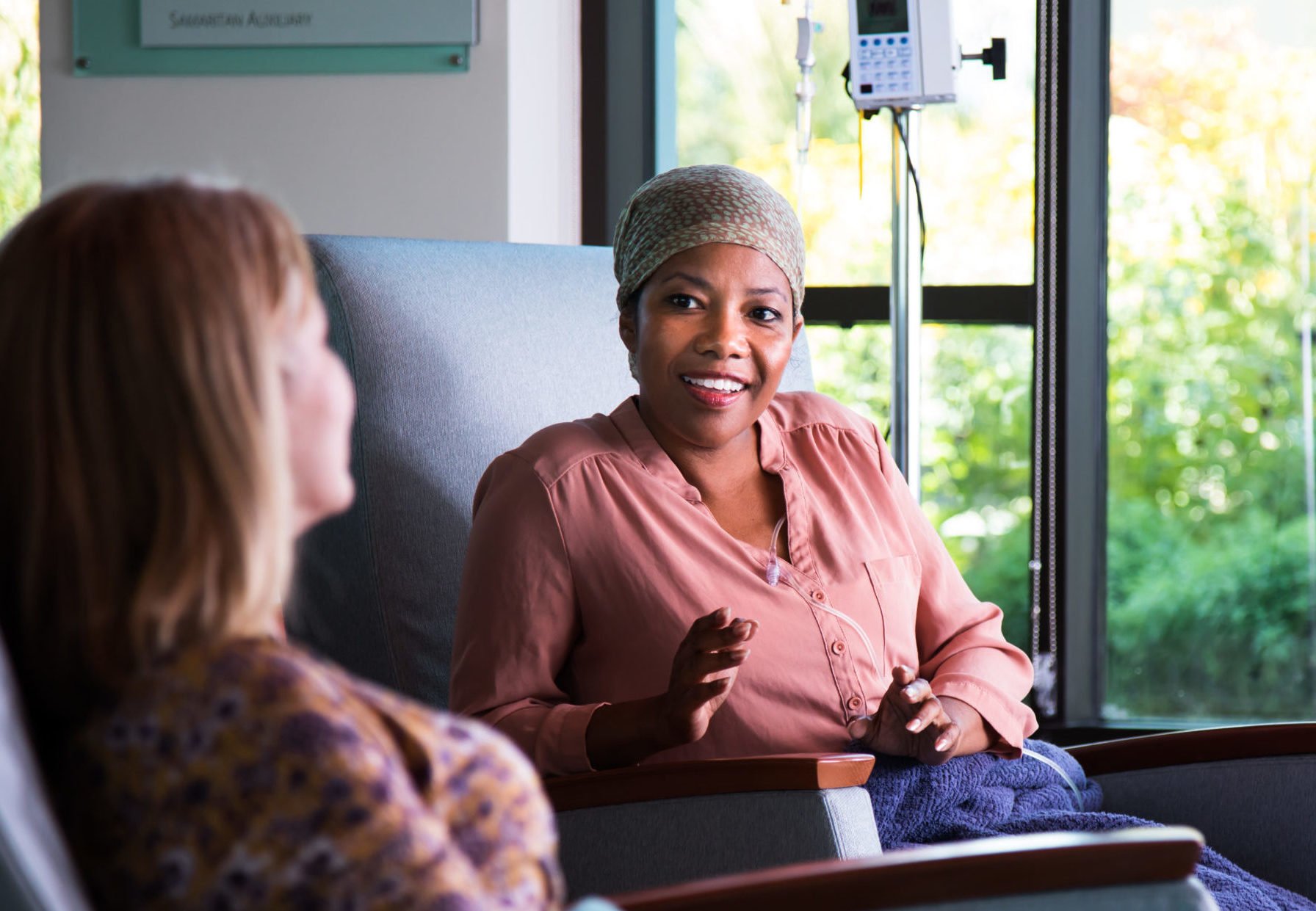 Samaritan and Roswell Park are joining forces to fight cancer.
To provide our community the best possible cancer care, we've formed a new affiliation with Roswell Park Comprehensive Cancer Center in Buffalo, NY. Not only will this relationship enhance our capabilities and increase our resources, it will elevate our medical oncology offering by connecting patients to the innovative treatments and programs of the Roswell Park Care Network.
Medical oncology patients at Samaritan will benefit from more options and opportunities to decide the best route to treat their cancer, but they'll maintain the same day-to-day interactions with the staff they've come to know.
When opened in 2018, Samaritan's Walker Center for Cancer Care represented a $16 million local investment in the health of our community and changed the way cancer care is delivered in our region. Our collaboration with Roswell Park—widely recognized as one of the best cancer centers in the nation—will propel our medical oncology services to the next level by providing:
Access to clinical trials
Telemedicine
Consultations with Roswell Park subspecialists
Access to multi-disciplinary tumor boards
Innovative therapies through our affiliation with Roswell Park Comprehensive Cancer Center
Medical oncology therapies for select cancers through Roswell Park Comprehensive Cancer Center
Reduced travel for patients who may otherwise seek treatment at cancer centers in New York City or out of state. Patients requiring more complex care may also be referred to Roswell Park in Buffalo.
What to Expect
Samaritan's medical oncology and hematology professionals provide diagnosis and treatment for patients dealing with all types of cancers and blood disorders. Our dedicated physicians, nurses and staff will guide you and your family through your treatment options, tailoring our services to your unique, individual needs.
Our comprehensive services are state-of-the-art, patient-centered, and provided by people who have an unwavering commitment to achieving the best possible result. We'll keep you informed of possible side effects; monitor each step of your treatment; and fully evaluate your progress. You'll receive expert care, while staying close to the comfort of your home and family.
Anemia
Bleeding disorders
Cancers including but not limited to:

Colon, prostate, breast, lymphomas, non-active leukemia
Urologic, lung, gastric, pancreatic, brain, and melanoma

Coagulation disorders
Hemophilia
Sickle Cell disease

Treatments and Procedures

Close

Anticoagulation therapy
Bone marrow aspirate & biopsy
Chemotherapy
Immunotherapy
Infusions for other physicians for MS & arthritis
Lab
Nutritional counseling
Transfusions
Due to COVID-19, office hours may have changed and some locations are temporarily closed. Please contact us at the number below before visiting any Samaritan location.
Walker Center for Cancer Care
830 Washington Street
Watertown, NY 13601