Samaritan Celebrates October 2021 DAISY and BEE Award Recipients
Published on: November 4, 2021
Samaritan Medical Center is pleased to announce its DAISY and BEE Award recipients for October 2021. The DAISY Award for Extraordinary Nurses® recognizes exemplary nursing staff at the hospital and all outpatient clinics, and the BEE Award honors other outstanding staff members who support patient care.
Matthew Them, an RN in the Car-Freshner Center for Women and Children, received the DAISY Award and Heather Delaney, Interventional Radiology Unit Clerk, was honored with the BEE Award. Matthew was nominated by a grateful patient, and Heather was nominated by a Samaritan colleague.
Matthew was chosen to receive the DAISY Award for the exceptional, compassionate care he provided a patient in labor with COVID-19 and her family.
"My wife and I came to Samaritan to give birth to our second child," the nomination reads. "My wife tested positive for COVID-19 almost a week prior, so she had been really anxious about that and how our time at the hospital would be. Matt Them was one of the nurses assigned to our COVID-19 delivery room…he made our time there the greatest, most pleasant hospital visit my wife and I have ever had. He was so knowledgeable and caring in regards to his job. Huge shout-out to Matt, great job!"
For receiving the DAISY Award – which is an international award backed by The DAISY Foundation – Matthew was presented a certificate commending him as an extraordinary nurse, a DAISY Award pin, and a symbolic sculpture called "A Healer's Touch," which is hand-carved by artists of the Shona Tribe in Zimbabwe. A larger version of this sculpture is on display in the Healing Gardens at Samaritan in honor of all DAISY and BEE Award winners. It was purchased using funds donated by the Samaritan Auxiliary.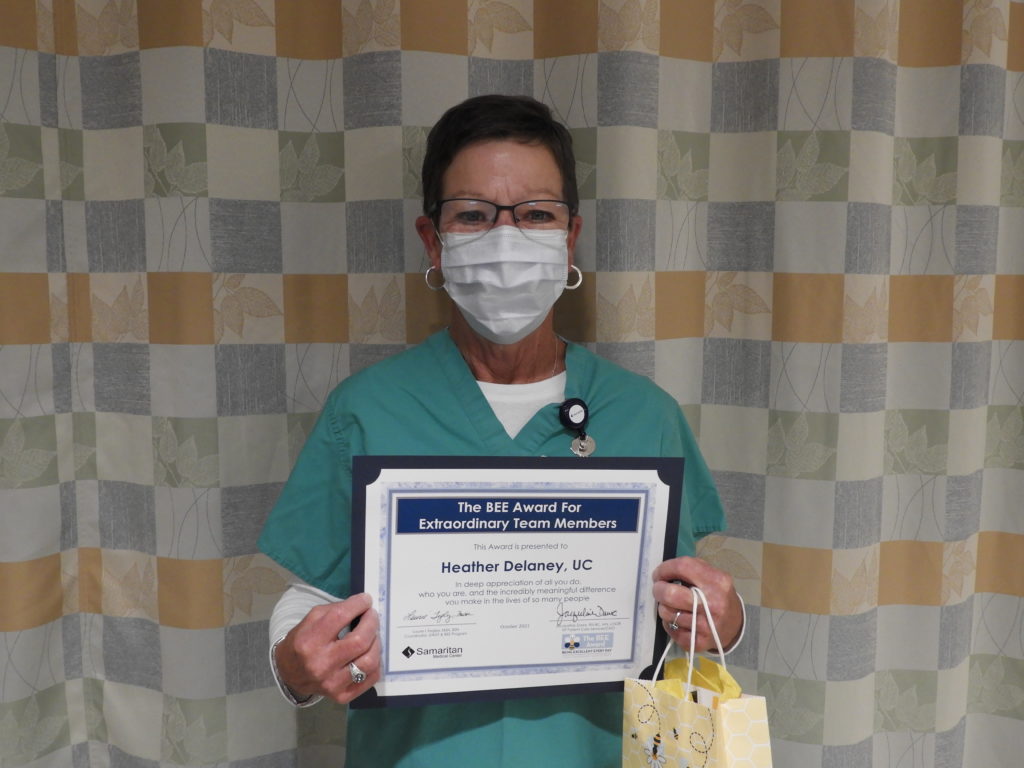 Heather received the BEE Award for her reliability and unparalleled organizational skills, which keep her department operating smoothly.
"Heather is the solid backbone of Interventional Radiology," her nomination reads. "She is the 'go-to' person for every staff member within and even outside our department. She is meticulous in organization, prioritization, time management and maintaining a clean working environment. Thank you so very much for all you do, Heather, it is greatly appreciated and highly respected by all!"
Heather was presented a certificate, a BEE Award pin, and a gift bag with other tokens of gratitude.
Both awards will continue to be presented throughout the year, and nominations can be submitted by patients, families, or colleagues at any time. To make a nomination, or to learn more about the DAISY and BEE Awards, visit www.samaritanhealth.com/daisy-bee.