Samaritan Celebrates November 2021 DAISY and BEE Award Recipients
Published on: December 7, 2021
Samaritan Medical Center is pleased to announce its DAISY and BEE Award recipients for October 2021. The DAISY Award for Extraordinary Nurses® recognizes exemplary nursing staff at the hospital and all outpatient clinics, and the BEE Award honors other outstanding staff members who support patient care.
Michelle Watson, RN, Maternity, received the DAISY Award and Candice Matthews, Central Scheduler, Infusion, was honored with the BEE Award. Both staff members were nominated by Samaritan colleagues.
Watson was chosen to receive the DAISY Award for her kind, compassionate and team-player attitude.
"Michelle is one of the most humble nurses I have worked with over my 30-year career," her nomination letter reads. "She is a team player focused on her patients and doing what is in their best interest. She is a kind, compassionate and truly genuine person who would do anything to help one of her patients, their family members, or a co-worker."
For receiving the DAISY Award – which is an international award backed by The DAISY Foundation – Michelle was presented a certificate commending her as an extraordinary nurse, a DAISY Award pin, and a symbolic sculpture called "A Healer's Touch," which is hand-carved by artists of the Shona Tribe in Zimbabwe. A larger version of this sculpture is on display in the Healing Gardens at Samaritan in honor of all DAISY and BEE Award winners. It was purchased using funds donated by the Samaritan Auxiliary.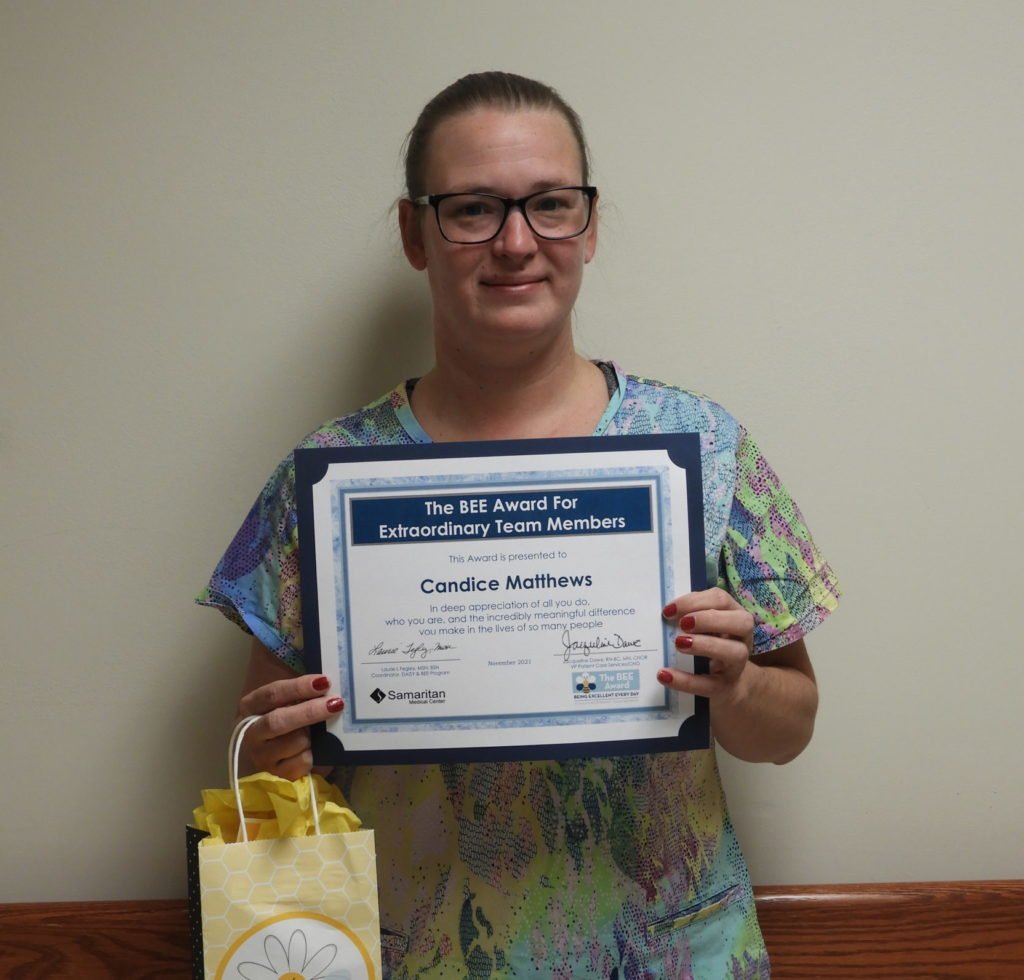 Matthews received the BEE Award for her extra efforts to help with Samaritan's monoclonal antibody clinic, which helps COVID-19 patients recover from the disease.
"Candice has been an integral part of handling things for the COVID-19 monoclonal antibody infusions," her nomination letter reads. "She really has stepped up and done the job of a couple of people, and we would not be functioning in the monoclonal clinic without her. We can't thank her enough for all of her hard work and support throughout COVID-19."
Matthews was presented a certificate, a BEE Award pin, and a gift bag with other tokens of gratitude.
Both awards will continue to be presented throughout the year, and nominations can be submitted by patients, families, or colleagues at any time. To make a nomination, or to learn more about the DAISY and BEE Awards, visit www.samaritanhealth.com/daisy-bee.