Samaritan Celebrates August 2022 DAISY® and BEE Award Recipients
Published on: October 4, 2022
Watertown, NY – Samaritan Medical Center is pleased to announce its DAISY and BEE Award recipients for August 2022. The DAISY Award for Extraordinary Nurses® recognizes exemplary nursing staff, and the BEE Award honors other outstanding staff members who support patient care, both at the hospital and all outpatient clinics.
Christopher Phinney, a Registered Nurse at Samaritan Medical Center, Operating Room, received the DAISY Award. Susan Hodge, Lead Clinic Office Support at Samaritan Pulmonology, received the BEE Award. An impressed co-worker, Kyle Aumell, Technical Services Manager, nominated Phinney. Hodge was nominated by Dr. Rory Sears, Pulmonologist. A committee then selected them.
Phinney was nominated for dedication to patients. Aumell described Phinney saying:
"I have had the pleasure of working with Chris for many years now and have always been impressed with his dedication to the patient – we have implemented systems at his suggestion to improve communication both within the operating room staff and with patients' families," said Aumell. "I've now had two occasions to witness his level of passion and care with patients and their families on a personal level. Nurses like Chris make me proud to work at Samaritan and support his mission."
For receiving the DAISY Award – which is an international award backed by The DAISY Foundation – Phinney was presented a certificate commending her as an extraordinary nurse, a DAISY Award pin, and a symbolic sculpture called "A Healer's Touch," which is hand-carved by artists of the Shona Tribe in Zimbabwe. A larger version of this sculpture has also been installed in the Healing Gardens at Samaritan Medical Center in honor of all DAISY and BEE Award winners to come. It was purchased using funds donated by the Samaritan Auxiliary.
Hodge was nominated by Dr. Rory Sears of Samaritan Pulmonology for going the extra mile for patients.
"Susan has been an important part of our team for years. She makes sure our patients are taken care of, and she does so with a very pleasant demeanor. Our patients are so happy to hear from her when she calls to schedule as they love her happy and caring voice," said Dr. Sears. "She goes above and beyond to make sure we fit in urgent sick calls in a timely fashion. Without her we could not provide the services we do to our patients. Whether our patients are having trouble breathing or have lung cancer she is there to help get things done. She is the first person that people see when they come in for an appointment. To see her smiling face as our patient's enter, it lets our patients know we are happy to see them and we care. She sets the tone for the entire encounter. She is a star."
Hodge was presented with a certificate, a BEE Award pin, and a gift bag with other tokens of gratitude.
Both awards will continue to be presented throughout the year, and nominations can be submitted by patients, families, or colleagues at any time. To make a nomination or to learn more about the Samaritan DAISY and BEE Awards, visit www.samaritanhealth.com/daisy-bee.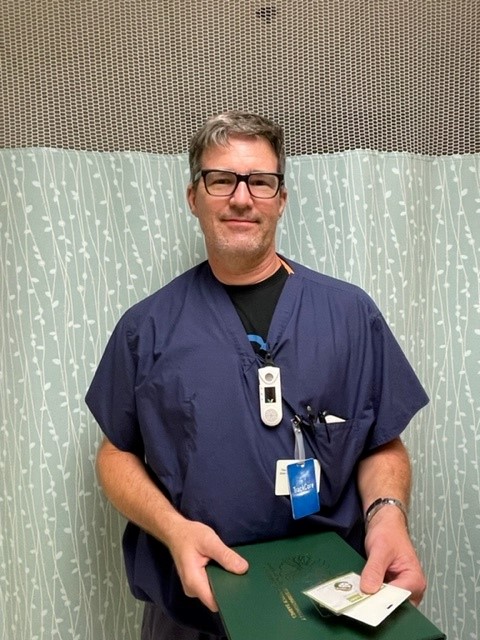 ###
About Samaritan Medical Center
Samaritan Medical Center (Watertown, New York) is a 290-bed not-for-profit community medical center, offering a full spectrum of inpatient and outpatient healthcare services. From primary and emergency care to highly specialized medical and surgical services, such as cancer treatment, neonatal intensive care, behavioral health and addiction services, and imaging services, Samaritan Medical Center and its team of healthcare professionals proudly serves the medical needs of our civilian and military community. Quality, compassion, and safety are the basic principles by which exceptional care is delivered at Samaritan.
About The DAISY Foundation
The DAISY Foundation is a not-for-profit organization, established in memory of J. Patrick Barnes, by members of his family. Patrick died at the age of 33 in late 1999 from complications of Idiopathic Thrombocytopenic Purpura (ITP), a little known but not uncommon auto-immune disease. (DAISY is an acronym for Diseases Attacking the Immune System.) The care Patrick and his family received from nurses while he was ill inspired this unique means of thanking nurses for making a profound difference in the lives of their patients and patient families. In addition to the DAISY Award for Extraordinary Nurses, the Foundation expresses gratitude to the nursing profession internationally in over 3,900 healthcare facilities and schools of nursing with recognition of direct care Nurses, Nurse-led Teams, Nurse Leaders, Nursing Faculty, Nursing Students, through the J. Patrick Barnes Grants for Nursing Research and Evidence-Based Practice Projects and for nurses participating in medical missions. More information is available at http://www.DAISYfoundation.org.