Samaritan Celebrates August 2021 DAISY and BEE Award Recipients
Published on: September 27, 2021
Samaritan Medical Center is pleased to announce its DAISY and BEE Award recipients for August 2021. The DAISY Award for Extraordinary Nurses® recognizes exemplary nursing staff at the hospital and all outpatient clinics, and the BEE Award honors other outstanding staff members who support patient care.
Jacqueline "Jackie" Queen, RN, Intensive Care Unit (ICU), received the DAISY Award and Aaron Abraham, Visual Observation Staff, was honored with the BEE Award. Both Queen and Abraham were nominated by colleagues at Samaritan.
Queen, a 33-year Samaritan employee, was chosen to receive the DAISY Award for her reliability, mentorship and resilience.
"Jackie has always been a leader throughout the organization, delivering patient-centered care. She is well respected by her peers and physicians," her nomination letter reads. "During this very challenging pandemic, Jackie was one of our leaders in the COVID ICU, never shying away but rather reporting each day for her assignment with a smile and willingness to help our sickest patients, including those suffering from COVID. She cares for all patients as if they were her own family, and she would definitely be the nurse I would request to care for me and my family."
For receiving the DAISY Award – which is an international award backed by The DAISY Foundation – Queen was presented a certificate commending her as an extraordinary nurse, a DAISY Award pin, and a symbolic sculpture called "A Healer's Touch," which is hand-carved by artists of the Shona Tribe in Zimbabwe. A larger version of this sculpture is on display in the Healing Gardens at Samaritan in honor of all DAISY and BEE Award winners. It was purchased using funds donated by the Samaritan Auxiliary.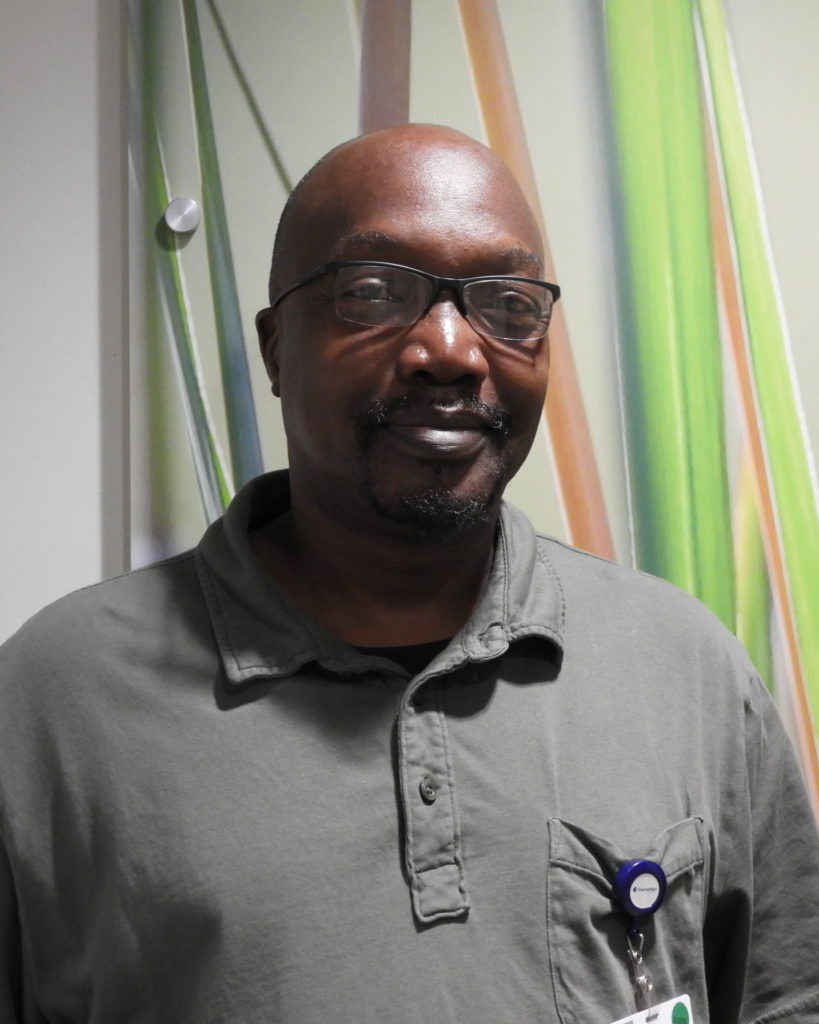 Abraham received the BEE Award for his calm, compassionate nature. His nominator, a newly-hired employee, described how Abraham helped put her mind at ease while she was feeling overwhelmed.
"I was working when we went into lockdown, and it was a very overwhelming experience for me to go through. In general, situations that I am not privy to only cause my anxiety to rise," she writes. "This all changed when Aaron stopped by to check on me. He talked with me, informed me of what I should be doing, and made me more comfortable with my role in the situation. He stayed with me until I ensured him that I understood what I needed to do, and because of that, an anxiety-provoking situation got turned around for the better. Aaron exemplifies what it means to be a caregiver, and he deserves to be recognized for his amazing and life-changing work."
Abraham was presented a certificate, a BEE Award pin, and a gift bag with other tokens of gratitude.
Both awards will continue to be presented throughout the year, and nominations can be submitted by patients, families, or colleagues at any time. To make a nomination, or to learn more about the DAISY and BEE Awards, visit www.samaritanhealth.com/daisy-bee.