Samaritan Awards First DAISY® and BEE Awards for Extraordinary Care
Published on: July 24, 2020
Watertown, NY – Samaritan Medical Center is proud to announce the first recipients of its newly established DAISY and BEE Awards. The DAISY Award for Extraordinary Nurses® recognizes exemplary nursing staff at the hospital, and the BEE Award honors other outstanding staff members who support patient care.
Diane Jesmore, a Registered Nurse in Samaritan's Infusion Unit, received the first DAISY Award and Raymond Hirst, Access Management Counselor, was given the first BEE Award. Both honorees were nominated by fellow staff members and selected by a committee.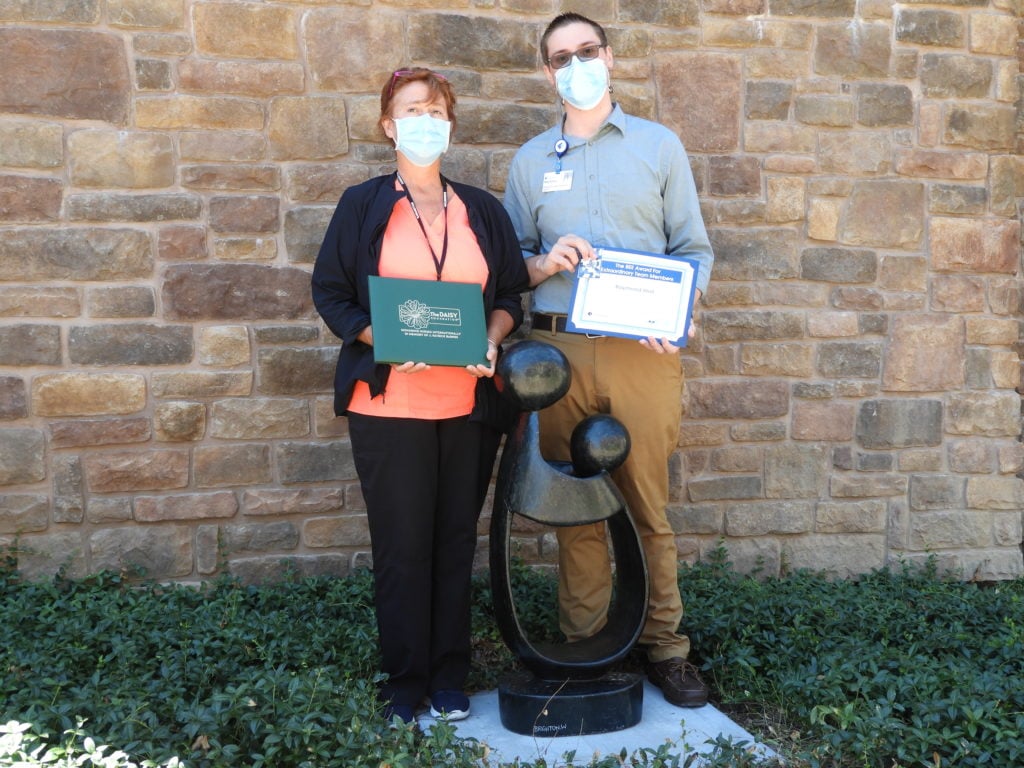 Jesmore was nominated for her flexibility and devotion after she extended a 12-hour shift on a holiday weekend to help a patient in need. Her manager, Kimberly Smith, described the event in her nomination form for Jesmore:
"After working eight hours of her 12-hour scheduled shift on Friday evening of Memorial Day weekend, Diane was notified that there was a young patient who was extremely ill and was in need of infusion treatment. She graciously went to the Intensive Care Unit to administer this medication, which is a five- to six-hour infusion. She never once questioned working over her scheduled shift, but rather told me that this patient was in need of our services and that she would be happy to help."
"Diane always puts the patients' needs first," writes Smith. "She is an expert in her field and shares her knowledge and skills with others. She is devoted to our patients and dedicated to her career. We are extremely fortunate to have Diane on our team."
For receiving the DAISY Award – which is an international award backed by The DAISY Foundation – Jesmore was presented a certificate commending her as an extraordinary nurse, a DAISY Award pin, and a symbolic sculpture called "A Healer's Touch," which is hand-carved by artists of the Shona Tribe in Zimbabwe. A larger version of this sculpture has also been installed in the Healing Gardens at Samaritan in honor of all DAISY and BEE Award winners to come. It was purchased using funds donated by the Samaritan Auxiliary.
Hirst was nominated for the BEE Award by the entire nursing leadership team at Samaritan Medical Center for his helpful and compassionate work in the hospital's main registration area. Having joined the Samaritan staff just a few months ago, he has quickly become a welcome face for patients checking in for outpatient visits.
"Raymond makes sure that each patient and employee is treated with the utmost respect, kindness, and compassion," reads his nomination form. "He is a role model for others and is a pleasure to work with."
Hirst was presented a certificate, a BEE Award pin, and a gift bag with other tokens of gratitude.
Both awards will continue to be presented throughout the year, and nominations can be submitted by patients, families, or colleagues at any time. To make a nomination, or to learn more about the DAISY and BEE Awards, visit www.samaritanhealth.com/daisy-bee.
Samaritan would like to thank Panera Bread® for donating cinnamon rolls for recurring DAISY Award celebrations and Staples® of Watertown for help with promotional items for both awards.
About The DAISY Foundation
The DAISY Foundation is a not-for-profit organization, established in memory of J. Patrick Barnes, by members of his family. Patrick died at the age of 33 in late 1999 from complications of Idiopathic Thrombocytopenic Purpura (ITP), a little known but not uncommon auto-immune disease. (DAISY is an acronym for Diseases Attacking the Immune System.) The care Patrick and his family received from nurses while he was ill inspired this unique means of thanking nurses for making a profound difference in the lives of their patients and patient families. In addition to the DAISY Award for Extraordinary Nurses, the Foundation expresses gratitude to the nursing profession internationally in over 3,900 healthcare facilities and schools of nursing with recognition of direct care Nurses, Nurse-led Teams, Nurse Leaders, Nursing Faculty, Nursing Students, through the J. Patrick Barnes Grants for Nursing Research and Evidence-Based Practice Projects and for nurses participating in medical missions. More information is available at http://www.DAISYfoundation.org.