General Surgery
Samaritan Medical Center proudly offers the da Vinci Surgical System for certain general surgery procedures.
da Vinci® Surgery is used during the following general surgery conditions at Samaritan:
da Vinci® Single-Site™ Gallbladder Removal (Cholecystectomy)
da Vinci® Surgery for Gallbladder Removal (Cholecystectomy)
da Vinci® Ventral Hernia Repair
Learn more about Gallbladder removal with the da Vinci® Surgical System.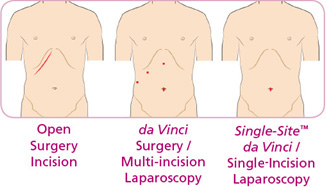 Unlike traditional robotic surgeries requiring three to five small incisions, this technology allows for a single incision in the belly button where instruments are placed and the diseased gallbladder is removed. Potential benefits of Single-Site gallbladder surgery may include virtually scarless surgery, minimal pain, low blood loss, fast recovery, a short hospital stay and high patient satisfaction.
Gallbladder disease affects 10-15% of adults in the United States and Europe. According to the American College of Surgeons, surgery is the recommended treatment for gallbladder pain from gallstones and non-functioning gallbladders. More than 1 million people in the U.S. have their gallbladder removed each year. Many people who require gallbladder removal are candidates for the robotic-assisted, single-incision surgery.