Samaritan Celebrates March 2022 DAISY® and BEE Award Recipients
Published on: April 14, 2022
Watertown, NY – Samaritan Medical Center is pleased to announce its DAISY and BEE Award recipients for March 2022. The DAISY Award for Extraordinary Nurses® recognizes exemplary nursing staff, and the BEE Award honors other outstanding staff members who support patient care, both at the hospital and all outpatient clinics.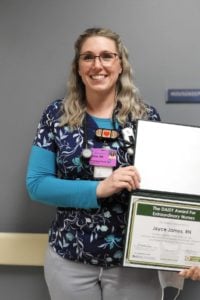 Joyce James, a Registered Nurse at Samaritan Medical Center, received the DAISY Award. Tim Cole, hospital Clinical Discharge Planner with Patient and Family Services, received the BEE Award. James was nominated by Assistant Nurse Manager Bobbi Jo Marolf, and Cole by Ciera Talbot, Registered Nurse. A committee then selected them.
James was nominated for being an exemplary role model on 4 Pavilion, a medical/surgical inpatient unit. The Assistant Nurse Manager described James saying:
"Joyce has oriented many new grad nurses she takes them under her wing and helps them grow into amazing nurses. She not only has trained many new nurses along the way but she has also created new grad nursing orientation handbook."
Additionally noted in the nomination, James has been "an exceptional nurse for our patients on 4 Pavilion. She treats every patient with care and compassion. She takes care of each patient as though they were her own family member. She provides excellent care to each and every patient."
For receiving the DAISY Award – which is an international award backed by The DAISY Foundation – James was presented a certificate commending her as an extraordinary nurse, a DAISY Award pin, and a symbolic sculpture called "A Healer's Touch," which is hand-carved by artists of the Shona Tribe in Zimbabwe. A larger version of this sculpture has also been installed in the Healing Gardens at Samaritan Medical Center in honor of all DAISY and BEE Award winners to come. It was purchased using funds donated by the Samaritan Auxiliary.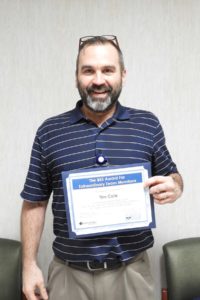 Cole was nominated for the BEE Award by Ciera Talbot, Registered Nurse for always supporting staff and patients.
"Tim always goes above and beyond for bedside staff and our patients… I've also messaged Tim for assistance, not realizing he was off for the day or that he was not assigned to my unit. Instead of responding with "I'm off or not assigned", his response is "How can I help?" Tim is truly selfless and an asset to this facility."
Cole was presented with a certificate, a BEE Award pin, and a gift bag with other tokens of gratitude.
Both awards will continue to be presented throughout the year, and nominations can be submitted by patients, families, or colleagues at any time. To make a nomination or to learn more about the Samaritan DAISY and BEE Awards, visit www.samaritanhealth.com/daisy-bee.
About Samaritan Medical Center
Samaritan Medical Center (Watertown, New York) is a 290-bed not-for-profit community medical center, offering a full spectrum of inpatient and outpatient healthcare services. From primary and emergency care to highly specialized medical and surgical services, such as cancer treatment, neonatal intensive care, behavioral health and addiction services, and imaging services, Samaritan Medical Center and its team of healthcare professionals proudly serves the medical needs of our civilian and military community. Quality, compassion, and safety are the basic principles by which exceptional care is delivered at Samaritan.
About The DAISY Foundation The DAISY Foundation is a not-for-profit organization, established in memory of J. Patrick Barnes, by members of his family. Patrick died at the age of 33 in late 1999 from complications of Idiopathic Thrombocytopenic Purpura (ITP), a little known but not uncommon auto-immune disease. (DAISY is an acronym for Diseases Attacking the Immune System.) The care Patrick and his family received from nurses while he was ill inspired this unique means of thanking nurses for making a profound difference in the lives of their patients and patient families. In addition to the DAISY Award for Extraordinary Nurses, the Foundation expresses gratitude to the nursing profession internationally in over 3,900 healthcare facilities and schools of nursing with recognition of direct care Nurses, Nurse-led Teams, Nurse Leaders, Nursing Faculty, Nursing Students, through the J. Patrick Barnes Grants for Nursing Research and Evidence-Based Practice Projects and for nurses participating in medical missions. More information is available at http://www.DAISYfoundation.org