Samaritan Celebrates January 2022 DAISY® and BEE Award Recipients
Published on: January 28, 2022
Watertown, NY – Samaritan Medical Center is pleased to announce its DAISY and BEE Award recipients for January 2022. The DAISY Award for Extraordinary Nurses® recognizes exemplary nursing staff at the hospital and all outpatient clinics, and the BEE Award honors other outstanding staff members who support patient care.

Katie O'Brien, a Registered Nurse in Samaritan's Intensive Care Unit (ICU), received the DAISY Award. Joshua Dalton, LCSW-R, CASAC-II, at Samaritan's Outpatient Behavioral Health Services received the BEE Award. O'Brien was nominated by a patient's family member and Dalton by a Samaritan colleague. A committee then selected them.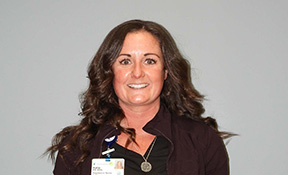 O'Brien was nominated for her compassionate care of a patient on the "last day of his life." The family of the patient described the event in her nomination form for O'Brien:
"Katie was such a gift to my father and ultimately to our family. His end-of-life care was handled with such professionalism and perfection. She was tuned into his needs and so responsive in every way. Katie's years of experience were evident, and I have never been so grateful for the skills of the nursing profession in my life."

For receiving the DAISY Award – which is an international award backed by The DAISY Foundation – O'Brien was presented a certificate commending her as an extraordinary nurse, a DAISY Award pin, and a symbolic sculpture called "A Healer's Touch," which is hand-carved by artists of the Shona Tribe in Zimbabwe. A larger version of this sculpture has also been installed in the Healing Gardens at Samaritan in honor of all DAISY and BEE Award winners to come. It was purchased using funds donated by the Samaritan Auxiliary.

Dalton was nominated for the BEE Award by Tina O'Neill, Director of Mental Health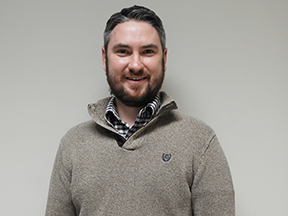 Services, for his willingness to go "above and beyond daily."

"Josh's attitude and character shine bright in the workplace, especially when days are filled with stress," reads his nomination form. "He will always help out when needed, especially when our walk-ins are full; if he is available, he is happy to see patients. Josh has worked for Samaritan since 2016 and, since coming here, has shown his dedication and commitment to the heart values."
Dalton was presented with a certificate, a BEE Award pin, and a gift bag with other tokens of gratitude.

Both awards will continue to be presented throughout the year, and nominations can be submitted by patients, families, or colleagues at any time. To make a nomination or to learn more about the DAISY and BEE Awards, visit www.samaritanhealth.com/daisy-bee.