Our Story & Mission
Established in 1951, Clifton-Fine Hospital is a rural, 20-bed Critical Access Hospital that proudly serves the medical needs of approximately 5,000 year-round residents and close to 5,000 more seasonal residents and visitors in southern St. Lawrence County. The hospital is located in Star Lake, New York within the deep forests, pristine waterways and towering mountains of the six million acre Adirondack Park.
In 2014, Clifton-Fine Hospital formed an affiliation with Samaritan Medical Center in nearby Watertown, New York, providing our patients with access to expanded services and a greater range of care. Today the hospital offers high quality medical services, a caring and compassionate staff of nearly 100, and newly updated equipment in many of our departments. We are an integral part of the local area, dedicated to making the communities we serve stronger, healthier and better.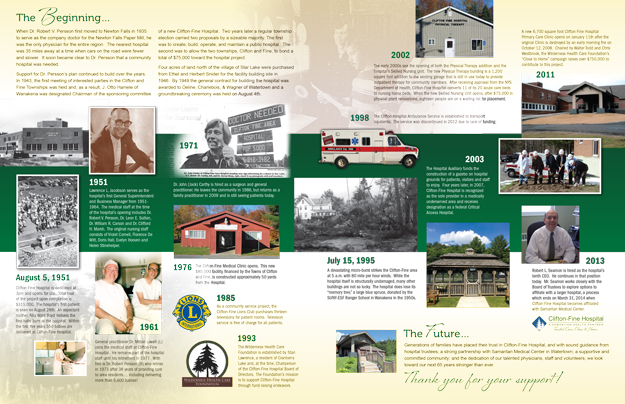 65 Years of Caring
When Dr. Robert V. Persson first moved to Newton Falls in 1935 to serve as the company doctor for the Newton Falls Paper Mill, he was the only physician for the entire region. The nearest hospital was 35 miles away at a time when cars on the road were fewer and slower. It soon became clear to Dr. Persson that a community hospital was needed.
Support for Dr. Persson's plan continued to build over the years. In 1943, the first meeting of interested parties in the Clifton and Fine Townships was held. Two years later a regular township election carried two proposals by a sizeable majority. The first?was to create, build, operate, and maintain a public hospital. The second was to allow the two townships, Clifton and Fine, to bond a total of $75,000 toward the hospital project.
Four acres of land north of the Village of Star Lake were purchased from Ethel and Herbert Snider for the facility building site in 1946. Five years later, on August 5, 1951, Clifton-Fine Hospital opened its doors to patients.
The hospital was founded, and has always been supported by, members of the community it serves. It represents the willingness of everyone in our community to care for and about each other. Through times of prosperity and economic stress, Clifton-Fine Hospital has continued to grow carefully, steadily, and thoughtfully, while remaining true to its mission and longstanding tradition of providing high-quality, accessible healthcare close to home. We invite you to explore our commitment to serving the healthcare needs of our community, as well as our promise to you: to be here whenever and wherever you need us, and to do so with exceptional care and compassion that you and your family deserve.
Our Mission
Clifton-Fine Hospital shall provide high quality personalized healthcare to the community.
Our Vision
Clifton-Fine Hospital will be the preferred medical provider in Southern St. Lawrence County.
Our Values
In order to succeed as a team, in meeting the healthcare needs of those we serve, Clifton-Fine Hospital is committed to:
Focusing on patient/resident needs
Accountability
Patient Safety
Dignity
Integrity