Laser Treatments
Rejuvenate your look with cosmetic and therapeutic outpatient skin laser treatments performed by Dr. John Carthy and Deborah Body, FNP, DNP. Lasers can be safely and effectively used to treat a variety of cosmetic skin concerns including uneven skin texture, spider veins, acne, redness, brown spots, moles, lesions, birthmarks, scars and warts. Lasers can also be used to permanently remove unwanted facial or body hair. The number of sessions needed depends on the treatment required and the condition of your skin.
Most insurance companies do not offer reimbursement for cosmetic procedures. However, some insurance companies will cover the treatment of disfiguring birthmarks such as hemangiomas. To find out if a treatment is covered you should contact your insurance company.
To schedule an appointment or to learn more, please call 315-848-5404.
Our treatments include:
• BOXTOX® Cosmetic
• Collagen Injections
• Laser Hair Removal
• Mole & Lesion Removal
• Laser Skin Resurfacing
• Spider Veins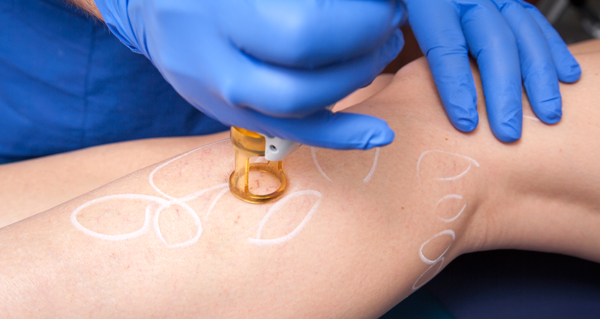 BOTOX® Cosmetic
BOTOX® Cosmetic is a prescription medicine that affects the nerves controlling targeted muscles, causing them to relax. The result is a temporary smoothing of wrinkles caused by overactive muscles. Untreated muscles continue to contract as before which leaves normal facial expressions unaffected.
BOXTOX Cosmetic can be used to help smooth and soften:
Horizontal forehead wrinkles
Vertical lines between the brows (glabellar lines)
Crow's feet
Bunny lines
Lipstick or smoker's lines
Neck bands (platysmal bands)
How safe are BOTOX Cosmetic treatments?
BOTOX Cosmetic is quickly gaining popularity for reversing visible signs of aging. However BOTOX injections have been FDA approved and have been used in treating ophthalmological and neurological conditions for over ten years.
What can I expect during treatment?
Treatment with BOTOX Cosmetic is very simple and safe. A series of small injections are made using a tiny micro-needle and very small amounts of liquid. These injections are very precisely located into the nerves that cause character lines. No anesthetic or other pain medication is necessary since the procedure causes very little pain. Some compare injections to a small bug bite. You may feel free to schedule your BOTOX treatment for lunch hour or after work since driving after the procedure is not a problem.
Collagen Injections
Collagen is a natural part of your skin that maintains elasticity and fullness of the face. As we age, collagen naturally depletes resulting in hollowness and wrinkled skin. Dr. John Carthy can inject collagen back into your skin to rejuvenate your appearance for a more youthful look. Treatment results are immediate and typically last three to six months, depending on the area being treated.
Immediate treatment – no pre-treatment skin test required!
Formulated with an anesthetic for comfort.
Treatment and recovery usually take less than one hour.
What can you treat with collagen injections?
Hollows under the eye
Tear troughs
Sunken cheeks
Nasolabial folds (sometimes called parenthesis lines around the mouth)
Lip augmentation
Depressed scars
Aged hands
Laser Hair Removal
Traditional hair removal methods such as tweezing, shaving, and waxing can be time consuming and sometimes painful. Laser hair removal is an easy, convenient way to maintain the smooth, hairless skin you want. It provides a lasting solution for people with a wide range of hair and skin types.
Dr. John Carthy uses the Candela GentleLase plus with an Alexandrite laser to quickly and precisely target unwanted hair on all areas of the body, including upper lip, chin, underarms, bikini line, legs, arms shoulders, back, abdomen and chest.
Permanent hair reduction with minimal discomfort
No damage to surrounding skin and tissue
No patient downtime after the procedure
Mole & Lesion Removal
Moles are generally benign skin growths that come in various shapes and sizes. They can appear anywhere on the skin, can be present at birth, or can begin to appear over time. Some moles are considered "beauty marks," however, for some people they can be unwanted.
Dr. John Carthy is an expert at removing unsightly or bothersome moles, warts, skin tags and other lesions without freezing or surgery. Using a CO2 laser, he carefully and precisely removes these imperfections with little to no scarring and minimal recovery time. Suspicious lesions, or those with a history of change, are biopsied before removal.
No stitches and little to no scarring
No damage to surrounding skin and tissue
Minimal patient downtime after the procedure
Laser Skin Resurfacing
Laser resurfacing is an effective way to treat a wide variety of skin conditions. Utilizing the power of your skin's own natural rejuvenation ability, laser skin resurfacing can give you smoother, tighter, and more vibrant skin.
Laser resurfacing can:
Reduce lines and wrinkles between the nose and mouth, and on the upper lip
Diminish blemishes like acne scars • Lessen facial discoloration or severe sun damage
Give dull, uneven skin a smoother, more lustrous appearance
Let us help you turn back the clock on your skin. Once your needs are identified, Dr. John Carthy will recommend a customized treatment plan designed to speed up your skin's normal process of shedding and renewal.
Spider Veins
Spider veins are small, fine veins that exist close to the surface of the skin. They get their name from the red, purple and blue "web" they create across the skin. Spider veins are often caused by pregnancy, hormonal changes, weight gain, professions or activities that require prolonged sitting or standing, certain medications, or genetics (family history). While they can be an indication of more serious vein issues, spider veins are mostly a cosmetic concern. Their coloring makes them difficult to cover up, and they can't be treated with topical skin medications or creams.
Laser therapy helps minimize the appearance of unsightly spider veins using a pinpoint laser light that passes through the skin and selectively targets the underlying vein. With multiple treatments with the HGM Krypton laser, a local anesthetic cream and cold compresses, the veins start to disappear over time, leading to smooth, flawless-looking skin.