Imaging / Radiology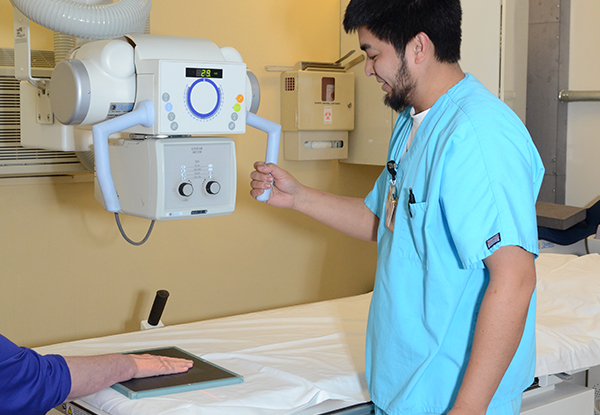 Many times, the diagnosis and treatment of an illness or injury starts with an imaging test. This is why Clifton-Fine Hospital proudly offers a wide range of imaging and radiology services for our patients, including x-ray, ultrasound, bone density scans and CT scans. It's also why we recently upgraded our imaging capabilities by purchasing a Philips Brilliance 16-slice CT scanner. The biggest advantage of this newer scanner is an almost 40% reduction in radiation exposure compared to our previous model. It is ideally suited for routine CT studies.
Over 2,000 diagnostic imaging exams are performed annually here at Clifton-Fine Hospital. No matter what type of exam you are receiving, our certified technologists make every effort to ensure that you are as comfortable as possible and that you understand every step of the process.
Even if you are not a patient of our Primary Care Clinic, you can still take advantage of our outpatient Imaging Services. Simply ask your provider to send the order to us and we will make sure the results are returned.
For more information call 315-848-3351, ext 221
Hours:
Monday – Friday • 8:00am – 5:00pm
Ultrasound – Wednesday • 8:30am – 4:00pm
Accredited by the Intersocietal Accreditation Commission (IAC)
Clifton-Fine Hospital provides the following imaging services:

Bone Density Scan
A bone density test, also called bone densitometry or dual-energy x-ray absorptiometry or DEXA, uses X-rays to measure how many grams of calcium and other bone minerals are packed into a segment of bone. The bones that are most commonly tested are in the spine, hip and forearm. Bone density testing is commonly used to diagnose osteoporosis and to assess an individual's risk for developing fractures.
CT (or CAT) Scan
A computed tomography (CT) scan produces detailed, 3D images of any part of the body and can show bone, soft tissue, and blood vessels all at the same time. They are frequently used to diagnose fractures and other injuries, examine organs, and detect abnormalities such as pulmonary embolisms, blocked blood vessels, aneurysms, bowel obstructions or tumors.
Ultrasound
Ultrasound uses high-frequency sound waves to create images of blood vessels, tissues and organs, including the heart, stomach, kidneys, liver, bladder, uterus and ovaries. During pregnancy, ultrasounds are used to evaluate the development of the fetus.
X-Ray
An X-ray or radiograph is one of the most commonly used techniques for viewing internal structures of the body, including bones, joints, and soft tissues. X-rays can be used to diagnose a variety of different conditions, including bone fractures, joint damage or inflammation, gallstones or kidney stones, pneumonia and bowel obstruction.