Emergency Care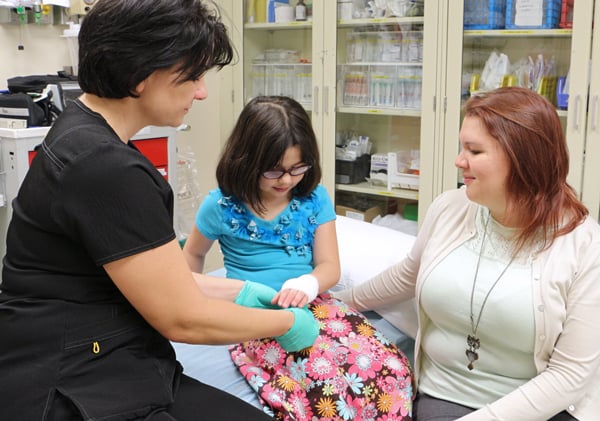 When you need prompt emergency care, the Clifton-Fine Hospital Emergency Department (ED) is here for you – 24-hours a day, seven days a week, typically with minimal wait times. In fact, in the majority of cases, the patient is seen by a caregiver in 30 minutes or less.
The Emergency Department is staffed by specially trained Emergency Medicine doctors, Physician Assistants and Registered Nurses who are well-equipped to provide care for those in critical need. In cases where a patient needs to be transferred to another hospital we can do so by ambulance or, if needed, by helicopter.
Please remember that visits for minor illnesses or injuries may not require the high level of care available in the Emergency Department. Instead, Clifton-Fine Hospital's Primary Care Clinic can often provide a same day appointment. Call 315-848-5404, Monday – Friday • 7:00am – 5:00pm.
Telestroke Program Makes Every Minute Count
When it comes to stroke, time is brain; making speed a critical component of treatment. That's why Clifton-Fine Hospital has teamed with Upstate University Hospital's Comprehensive Stroke Center to use telemedicine videoconferencing technology to diagnose and treat strokes.
When a patient arrives at Clifton-Fine Hospital's ED with what the healthcare team determines are symptoms consistent with stroke, this new technology will connect our patient in Star Lake with a Syracuse-based Upstate University neurologist. The telemedicine equipment enables the neurologist to view the patient's CT scan, examine the patient and talk with him or her, providing an expert consultation right at the bedside. It also allows the Clifton-Fine and Upstate providers to work together in real time to quickly assess the patient's condition and determine immediate treatment actions.
Upstate University Neurologists
Julius Latorre, MD, MPH
Hesham Masoud, MD
When You Should Go To the Emergency Department
Some of the following warning signs may indicate a medical emergency and signal when you should proceed to the nearest Emergency Department.
Any sudden or severe pain
Changes in vision
Chest or upper abdominal pain or pressure
Confusion or changes in mental status
Coughing or vomiting blood
Difficulty breathing, shortness of breath
Difficulty speaking
Fainting, sudden dizziness, weakness
Severe or persistent vomiting or diarrhea
Suicidal feelings
Uncontrolled bleeding
When You Should Call 911
Many times, it's very clear that an ambulance needs to be called, such as in the case of an auto accident or heart attack. But other times, when symptoms are unclear, those in need may be reluctant to dial 911. We often hear, "We didn't think it was necessary to call an ambulance" or "We didn't want to bother them." When in doubt, play it safe and call the emergency experts.
Consider these tips for calling 911:
Call any time a victim's condition is life threatening or could worsen and become life threatening
Call any time moving a victim could cause further injury
Call anytime when traveling to a hospital will take too long without the support of an on-board paramedic and an emergency response vehicle