The Osteopathic Traditional/Transitional Residency Year at Samaritan Medical Center was created in July 2000 and is fully accredited by the American Osteopathic Association (AOA) for six (6) Intern positions. The Program also can be used to fulfill ACGME, PGY-I requirements, making the choice of a follow-on residency much more available and appealing. The Program has exceeded all expectations by the AOA oversight bodies, the schools, and most importantly, the students and has evolved into a great platform to support Samaritan Medical Center's Residency Programs.
Design
The Osteopathic Traditional/Transitional Residency Year is based on the most current AOA regulations. It requires broad-based training, which expands your hands-on working knowledge of all aspects of contemporary medicine. It is also flexible enough to accommodate nearly all follow-on residency training program needs. In fact, this type of hospital-based training experience has already proved that it can successfully place students in all aspects of primary medical and surgical care, as well as in such specialties as radiology, ophthalmology, and more.
The Osteopathic Traditional/Transitional Residency Year is a valuable experience for the newly graduated physician who is still uncertain of his/her final career path. It provides sufficient time to choose wisely based on first-hand experiences derived from specific rotations.
Environment
The Samaritan Medical Center environment is unique, in that you benefit from one-on-one bedside teaching time provided by our Faculty Supervisors. In addition, the program includes a wide range of daily and weekly didactic and hands-on educational opportunities in the form of grand rounds, primary care conferences, specialty conferences, and informal case reviews.
Resources
An excellent textbook and electronic library is available to you, and searches are encouraged. A subscription medical reference service is provided throughout the hospital and clinic facility. Professional librarians are readily available to assist you with any computer needs.
Excellence
The Samaritan Osteopathic Traditional/Transitional Residency year celebrates its Osteopathic heritage. It maximizes the mentorship model of training and includes ongoing OMT/OPP instruction, while priding itself on fully preparing you for your exciting future as a skilled Osteopathic doctor.
Blocks
Rotation blocks in the Internal Medicine Residency:
OGME-1
| Rotation | # of Blocks |
| --- | --- |
| Internal Medicine – Inpatient | 3 |
| Family Medicine – Outpatient | 1 |
| Family Medicine – Inpatient | 1 |
| General Surgery | 1 |
| Emergency Medicine | 1 |
| ICU/CCU/PULM | 1 |
| Pediatrics | 1 |
| OB/GYN | 1 |
| Non-Clinical | 1 |
| Ambulatory Scholarship in Medicine | 1 |
| Electives* | 2 |
| Longitudinal Clinic | 1/2 day per week |
Electives*
Allergy/Immunology, Cardiology, Gastroenterology, Nephrology, Neurology, Oncology, Ophthalmology, Orthopaedics, Otolaryngology, Podiatry, Pulmonary, and Urology
Samaritan Medical Center participates in ERAS (Electronic Residency Application Service) for all of its AOA Approved Programs:
ERAS will transmit the applications, letters of recommendation, Deans' letters, transcripts and all other supporting credentials from medical schools to residency programs via the Internet.
Once your electronic application has been received by the Recruiter, you will be issued an invitation for an on-site personal interview. Samaritan Medical Center makes every effort to assist you with travel arrangements, directions and maps and provides hotel accommodations for you the evening before the interview.
AOA Program Number #132907 Match Code: 47611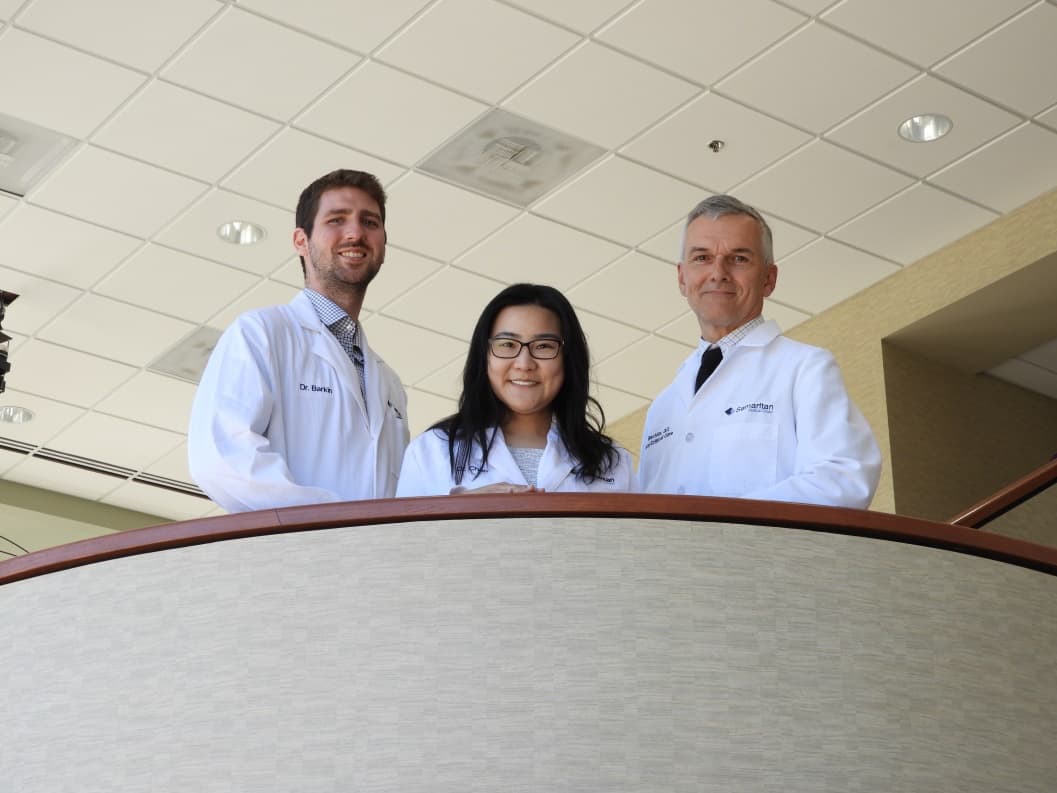 Traditional Rotating Internship Class of 2018-2019
Left to right: Jack Barkin, DO; Angela Chen, DO; & David Rechlin, DO (DME/DIO)