Mission Statement
Samaritan Medical Center is dedicated to producing competent, maximally skilled Osteopathic primary care Internists in three years, with comprehensive training, and who are well balanced in a wide variety of clinical settings to meet the needs of the communities they will serve across the country. This training will be based on the educational goals and objectives in the Core Curriculum for Internal Medicine, as defined by American College of Internal Medicine (ACOIM) and the American Osteopathic Association (AOA).
The purpose of the Samaritan Internal Medicine Residency training is to provide Residents with comprehensive structured cognitive and procedural clinical education in both inpatient and outpatient settings that will enable them to become competent, proficient and professional Osteopathic Internists.
Internal Medicine Class of 2017-2018
Left to right: Matthew Springer, DO; Jane Oosthuizen, DO; Bareeqah Ahmad, DO; Melissa Beshay, MD; Eunice Jacob-Charly, DO; Ciara Kazakis, DO; LaVerne VanDeWall, DO (PD); & David Rechlin, DO (DME/DIO)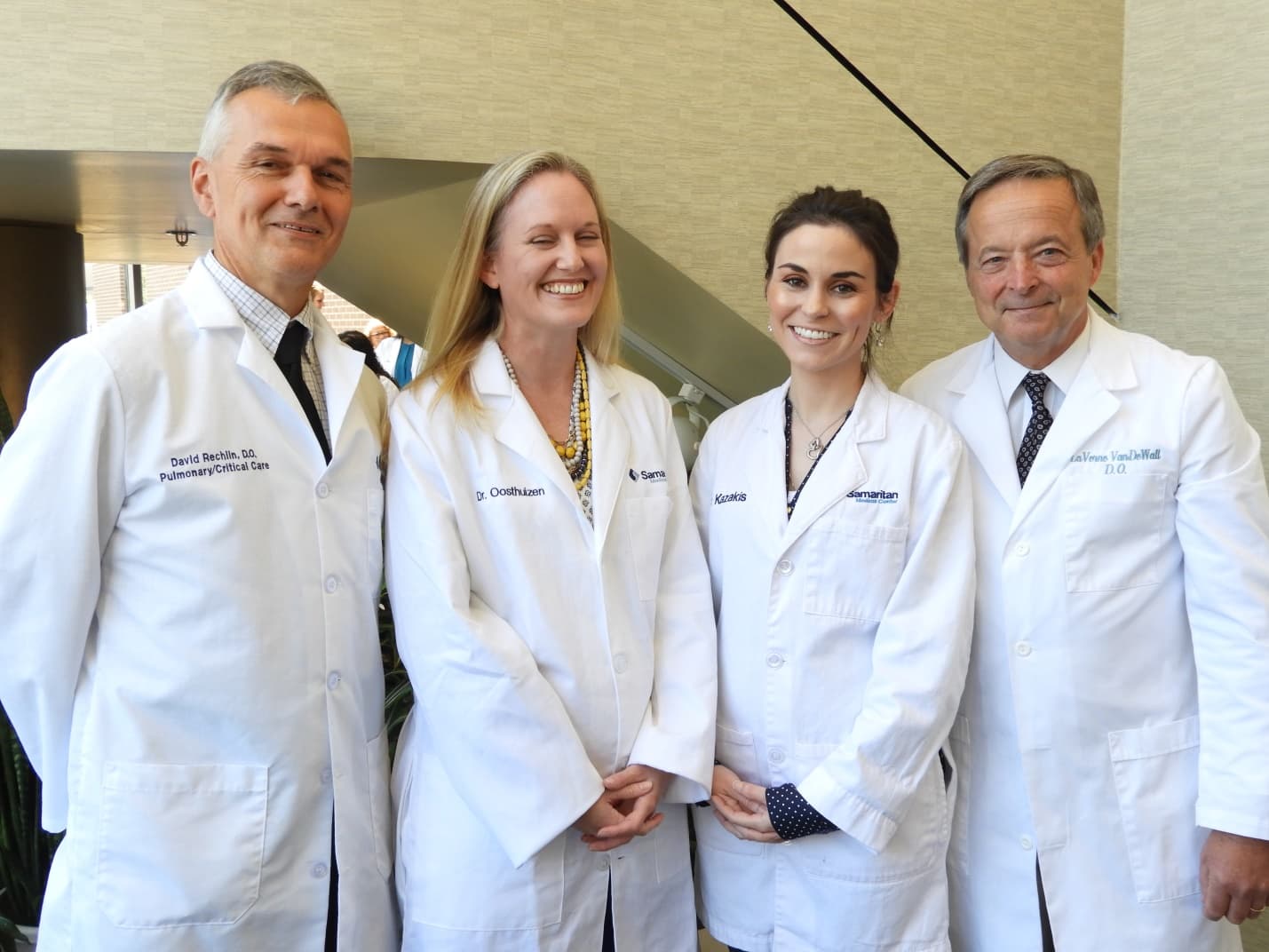 Internal Medicine Graduates for 2018
Left to right: Dr. Rechlin (DME/DIO); Dr Oosthuizen; Dr Kazakis; & Dr VanDeWall (PD)
Introduction
The Osteopathic Internal Medicine (IM) Program of Samaritan Medical Center is a three-year program, including a Specialty Track Internship Program. Also, the IM program at Samaritan can be used in preparation for practice as a Hospitalist.
The program is sponsored by the Lake Erie College of Osteopathic Medicine (LECOM) and it's OPTI is Lake Erie Consortium for Osteopathic Medical Training (LECOMT). The three-year residency program meets all of the requirements set forth by the American Osteopathic Association (AOA), the American Osteopathic Board of Internal Medicine (AOBIM) and the American College of Osteopathic Internists (ACOI). The Program is designed for 4-4-4 residents in the Program with a total of twelve (12) residents.
Details
The goal of the Internal Medicine Residency Program is to fully prepare competent internists/hospitalists who are capable of providing independent, high quality care to their patients. The program provides Residents with structured hands-on educational experiences, leading to the development of cognitive knowledge, and it teaches them how to evaluate and treat the common problems found in a diverse population of patients as well as diagnose and treat psychiatric problems, musculoskeletal problems, dermatological complaints, and functional disorders of the digestion, circulatory, endocrine or respiratory areas, to name a few. All Residents are required to further develop and apply their osteopathic manipulative medicine techniques.
Residents work side-by-side with professional faculty and Attending Physicians as they follow patients in the hospital setting on the medicine floors, ICU/PCU, the Hospitalist floor, etc. This gives the Residents extensive and unique one-on-one training with the faculty. All Residents are required to participate in an Internal Medicine Primary Care Continuity Clinic, where they care for their own assigned panel of regional patients in an outpatient/ambulatory setting for the entire three years under the direct supervision of an Osteopathic Internal Medicine specialist. While all Internal Medicine residencies must meet Board requirements, there are some distinct differences in Samaritan's program that enable us to stand apart from others. They are:
A rural location that encompasses a population base of approximately 110,000 culturally-diverse patients;
Great flexibility in rotations;
A prestigious military installation nearby (Fort Drum/10th Mountain Division), with military physicians on staff to provide training, including a wide array of pathology, reflecting world-wide exposure;
Electronic Medical Records system in place;
Adherence to NYS Law 405, which limits the amount of work hours for the Internal Medicine Resident to 80 hours per week; and
Daily lectures and conferences help you to further understand the management of common problems.
Since the Internal Medicine program at Samaritan Medical Center can be used in preparation for practice as a hospitalist, structured educational programs in the following areas will be provided utilizing review/quality management, mortality and morbidity reporting managed-care aspects of the hospitalized patient and infection control.
Blocks
Rotation blocks in the Internal Medicine Residency:
| PGY-1 | PGY-2 | PGY-3 |
| --- | --- | --- |
| Internal Med 1 of 12 | Internal Med 5 of 12 | Internal Med 9 of 12 |
| Internal Med 2 of 12 | Internal Med 6 of 12 | Internal Med 10 of 12 |
| Internal Med 3 of 12 | Internal Med 7 of 12 | Internal Med 11 of 12 |
| Internal Med 4 of 12 | Internal Med 8 of 12 | Internal Med 12 of 12 |
| ICU/CCU/Pulm 1 of 3 | Gastroenternology | ICU/CCU/Pulm 3 of 3 |
| Cardiology 1 of 2 | Oncology/ Hematology | Endocrinology |
| Peri-operative Medicine | Nephrology | Neurology |
| Women's Health | Infectious Disease | Rheumatology |
| Emergency Medicine | Allergy/ Immunology | Infectious Disease |
| Ambulatory Scholarship in Medicine | Geriatrics | Cardiology 2 of 2 |
| Radiology | ICU/CCU/Pulm 2 of 2 | Elective |
| Elective | Elective | Elective |
| Elective | Elective | Elective |
| Clinic: 1/2 day clinic / wk unless on nights or PTO | Clinic: 1/2 day clinic / wk unless on nights or PTO | Clinic: 1/2 day clinic / wk unless on nights or PTO |
Electives*
Allergy/Immunology, Cardiology, Gastroenterology, Nephrology, Neurology, Oncology, Ophthalmology, Orthopaedics, Otolaryngology, Podiatry, Pulmonary, and Urology
A minimum of 20% and a maximum of 40% of the program is to be spent in ambulatory rotations, including the continuing ambulatory experience. Rotations for the track are: office gynecology, ambulatory surgical subspecialties such as: orthopedics, ENT, urology, ophthalmology, psychiatry, adolescent medicine, substance abuse, disease prevention/wellness, geriatric medicine, community/epidemiology/public health, emergency medicine, allergy, dermatology, any medicine subspecialty in an ambulatory site, physical medicine, and vascular medicine.
Samaritan Medical Center participates in ERAS (Electronic Residency Application Service) for all of its AOA Approved Programs. ERAS will transmit the applications, letters of recommendation, Deans' letters, transcripts and all other supporting credentials from medical schools to residency programs via the Internet.
Once your electronic application has been received by the Recruiter, you will be issued an invitation for an on-site personal interview. Samaritan Medical Center makes every effort to assist you with travel arrangements, directions and maps and provides hotel accommodations for you the evening before the interview.
AOA Program Number: 158937 Match Code: 47650
ACGME Program Number: 1403500926 Match Code: 2024140C0